EHF EURO
Summary: Penalty gives Sweden their fifth EHF EURO title
The Men's EHF EURO 2022 concludes on Sunday evening with a final that will definitely set new records, whatever the result. 
We have such an incredible team spirit, and we have such a belief in ourselves. We fight hard, we are a true team, and now we just want to enjoy this evening as a team after we had enjoyed the match as a team.


21:50
And so the Men's EHF EURO 2022 comes to an end. 65 magnificent matches ending in the coronation of new kings of Europe, Sweden. We hope you enjoyed all our coverage - look out for more analysis, videos and reaction on eurohandball.com and social media in the next few days.
21:32
At the end of the tournament, Iceland's Ómar Ingi Magnusson is confirmed as top scorer with 59 goals in eight matches - 12 more than Mikkel Hansen, and 13 more than Poland's Arkadiusz Moryto. 
20:49
Jim Gottfridsson becomes the first MVP since the Men's EHF EURO 2014 to also come away with a gold medal. EHF journalist Courtney Gahan has looked at his incredible performance in more detail.
20:34
Can you believe it's all over? Nearly three weeks of handball, 65 incredible matches, and it came down to a penalty on the buzzer. 
Here are tonight's match reviews.
20:22
Moments you love to see.
20:13
The medals ceremony is about to begin, but before then, enjoy the winning goal for Sweden.
20:03
Sweden celebrate madly, Valter Chrintz dancing in the centre of a circle of blue and yellow. Glenn Solberg can't contain his happiness - now he's in the centre of the circle of his players and they cluster into a massive hug.
19:58 | FULL-TIME
SWEDEN 27:26 SPAIN
In the last action of the game, Spain concede a penalty as Joan Cañellas gets in Niclas Ekberg's way as he shoots. Ekberg makes no mistake about hammering the goal home past Gonzalo Perez de Vargas, who can't stop it. 
Sweden are champions again, 20 years after their last title. Spain must settle for silver - but a fifth medal in five tournaments is no small achievement.
Andreas Palicka is Grundfos Player of the Match after making 11 saves - and scoring one goal.
19:53
Spain take a timeout. Andreas Palicka saves a not-especially good shot. Glenn Solberg wastes no time in calling his own timeout. Sweden have 19 seconds to win the title.
19:50
Nervy moments for Spain as they defend Sweden's attack at 26:25, and regain the ball after a good Gonzalo Perez de Vargas save. Two minutes to go. Joan Cañellas scores his first and we're level once more. 
19:45
Six minutes to play. Hampus Wanne gives Sweden a two-goal lead from a fast break, which is instantly answered by Aleix Gómez. As Sweden lead 25:24, Glenn Solberg takes his second timeout. Sweden currently have the advantage, but Spain don't look like they're necessarily beaten yet. 
19:42
The return of Hampus Wanne and Niclas Ekberg tonight is useful for Sweden. Both have delivered some good goals during this match, with Ekberg delivering when it comes to penalties. 
19:35
Sweden are on the attack! Daniel Pettersson and then Jim Gottfridsson give them a one-goal lead. 
Spain have switched goalkeepers and it's Gonzalo Perez de Vargas protecting the posts now. Rodrigo Corrales has had a tough second half - although Andreas Palicka's percentage is also dropping. He just received a ball to his head which looked pretty hard. 
Jordi Ribera calls his second timeout of the match, with 12 minutes left.
19:31
The table officials ask for a video replay for a faulty substitution, and after a while, Inaki Pecina is suspended. Daniel Pettersson takes advantage of the power play to score into the empty Spanish net, but there's an instant reply from the in-form Adrian Figueras. It's 20:20 as we head towards 45 minutes.
19:25
He was named best defender of the tournament, but line player Oscar Bergendahl is showing his versatility tonight and is currently Sweden's top scorer, equalising twice in the last 90 seconds. 
Gonzalo Perez de Vargas comes on to take his second penalty, facing Niclas Ekberg. It misses, but Ekberg scores off the rebound and we're at 19:19. 
Anyone keen for more extra-time?
19:19
Neither team has changed their goalkeeper for this half - although Andreas Palicka is outplaying Rodrigo Corrales, as yet Gonzalo Perez de Vargas remains on the bench.
19:17
The second half is underway, and both sides have already conceded (successful) penalties. Goals by Ian Tarrafeta and Jonathan Carlsbogard on top of that mean Spain still lead by a single goal.
19:06
Adrian Figueras's goal to give Spain their first lead was a real beauty.

19:02 | HALF-TIME
SWEDEN 12:13 SPAIN
Spain nearly have a chance at making it a two-goal lead just before the break, but Aitor Ariño's effort goes nowhere. However, the reigning champions have the slight advantage in a fascinating contest of two teams that are both defending for all they're worth. 
We go to the break with Spain narrowly on top, but Sweden goalkeeper Andreas Palicka is one of the stars of the show so far, with seven saves — and what saves they have been. On the other side, Angel Fernandez is the top scorer for Spain but Aleix Gómez has really proven his value in both this first half and the semi-final. He showed remarkable leadership for someone playing on the wing against Denmark in the semi-final, and just scored the goal to give Spain the advantage right before the break.
18:55
Adrian Figueras scores his third goal of the game and Spain now lead 12:11 - Glenn Solberg takes a timeout, 41 seconds from the end of the half.
18:53
The timeout results in a lovely goal from Angel Fernandez and Spain are level!
18:52
With no goals for about four minutes Jordi Ribera calls his first timeout. What has the tactical master got up his sleeve today?
18:49
The Spanish defence is proving pretty solid and Sweden have had two unsuccessful attacks in a row. But play is also slow when Spain are attacking and Andreas Palicka can't stop saving.

18:42
He scored three in the semi-finals and now Andreas Palicka has scored another today into the empty Spanish goal as Aleix Gómez is suspended. But Max Darj is now suspended, and Gómez scores a penalty to bring it back to 8:7 in Sweden's favour after almost 20 minutes. Despite Palicka's heroics, Spain are staying in the match.
18:35
Andreas Palicka has made several immense saves to keep Sweden just ahead, but Spain are right there and not going away. 
18:28
Some starting sevens for you: Sweden have begun with Hampus Wanne, Jonathan Carlsbogard, Jim Gottfridsson, Oscar Bergendahl, Albin Lagergren, Valter Chrintz and Andreas Palicka. Spain began with Angel Fernandez, Agustín Casado, Daniel Sarmiento, Gedeon Guardiola, Jorge Maqueda, Aleix Gómez and Rodrigo Corrales. 
Sweden have had the upper hand so far, with a 4:2 lead after seven minutes.
18:23
EHF EURO 2022 MVP Jim Gottfridsson shows why he won the award, scoring the first goal in the final. Andreas Palicka saves quickly on Spain's counterattack. Sweden are in no hurry in possession.
18:21
A brief embrace between Adrian Figueras and Hampus Wanne, and we're off!
18:20
Some of the Danish supporters have put on yellow t-shirts to support their neighbours in the final.
18:15
The teams are on court and the arena is filling up. Time for the last anthems of the EHF EURO 2022. 
18:00
The pre-show has begun with some Hungarian music and dancing and a highlights reel from an incredible tournament. The trophy is on court too, awaiting its new owners.
17:53
Twenty years ago, Sweden won their last of their four EHF EURO titles. Recent form would suggest they have the edge over Spain and could celebrate a great anniversary tonight. But you can never write off the Hispanos, whose tenacity shows every time they take the court.
In the tournament so far, Sweden have scored 225 goals - three more than Spain. Sweden have conceded 195 goals, and Spain let 205 through. Sweden have made 5,210 passes, just over 300 more than Spain (4,804), and run more, chalking up a combined total distance of 249km compared to 223km for Spain.
There have been 26 direct duels between Spain and Sweden at major championships, with Sweden winning 14 and Spain 12. At the EHF EURO, Sweden won five times while Spain won four, including in the preliminary round in Bratislava this year.
So it's all pretty equal, and we should be in for a great match.
17:40
And breathe ... it's 35 minutes until the final throws off.
The Spanish arm of Swedish furniture giants IKEA have tweeted their support for the Hispanos, suggesting that an Allen key is the secret to dismantling Sweden.

17:23 | RESULT
FRANCE 32:35 DENMARK
For the first time at an EHF EURO, Denmark beat France. In the process, they win bronze, their first EHF EURO medal since silver in 2014. The result avenges the defeats to France at the EHF EURO in 2018 and last year's Tokyo 2020 Olympic Games.
Kentin Mahe is named Grundfos Player of the Match after a very good game, with eight goals. Jacob Holm is the match's top scorer, with 10. 
17:19
That said, France respond in kind when Denmark are attacking, Vincent Gerard saves and this time Melvyn Richardson makes short work of a goal. 33:31 to Denmark.
Rasmus Lauge adds a third - 34:31 - and then Niklas Landin saves. A minute left, and surely this is it now?
17:17
Denmark's defence is impressive and they're making it very hard for France to score. With a three-goal lead now and two and a half minutes left a medal for Denmark is looking slightly more likely. 
17:14
Rasmus Lauge's second goal of the game gives Denmark a three-goal lead, but Kentin Mahe makes it a two-goal game as the buzzer goes for the mini half-time break.
17:12
Here's those closing moments of normal time.
In the first three minutes of extra-time, Rasmus Lauge and Jacob Holm have given Denmark a 31:29 lead.

17:08
So the procedure for extra-time is the same as in the 5/6 placement match on Friday. There'll be two five-minute halves, and if the score remains level after that, a further two five-minute halves. If we're still level after that, it's penalty shoot-out time.
17:02
EXTRA-TIME!
It's 29:29 after full-time. This means the final will be delayed 15 minutes, until 18:15 CET.
17:01
And Dika Mem equalises for France with 30 seconds remaining. Nikolaj Jacobsen calls a timeout. Denmark have 13 seconds to win this - or we could be into extra-time. 
16:58
Denmark got just one goal out of the period of double-power play. They are defending hard, forcing France into passive play. The fans are in full voice in Budapest as Denmark regain possession and Lasse Svan puts them ahead 29:28 with one minute left.
16:53
It's going goal-for-goal. Both keepers have made 14 saves. Both teams have scored 27 goals. At the moment, we can't call this.
That said, Karl Konan is suspended for a foul on Magnus Saugstrup, and then immediately after play resumes, Nikola Karabatic is suspended for fouling Lasse Andersson. It's a real chance for Denmark, but because this is the EHF EURO 2022 and drama is part of the show, Vincent Gerard saves Emil Jakobsen's penalty. 
16:45
The lead changed hands again as Dika Mem put France in front - he did this in the main round match too, playing a key role in the second half to take his team to the win. However, Denmark are responding and staying in touch; two goals from Hans Mensing is enough to level the game once more.
16:35
Vincent Gerard is suspended after leaving his area in a bid to steal the ball from Magnus Saugstrup. Three goals from Saugstrup - two before the suspension and one after - give Denmark a three-goal lead.
16:31
Jacob Holm equalises for Denmark at 17:17. It's the seventh goal of the game for the 26-year-old playmaker.
France have been forcing Denmark to play catch-up throughout this match, in contrast to being the ones doing the catching. Kentin Mahe has added some stability and speed to the attack and he is one of three French players to have scored five times. 
Benoit Kounkoud shoots and Niklas Landin saves it, but Kounkoud's momentum sends him into Landin. They get up and Landin pats Kounkoud on the back. All friendly and nobody hurt.
But on the counterattack Magnus Saugstrup scores - Denmark lead.  
16:26
It's still a one-goal game after four minutes of the second half, with little change in tactics so far. 
16:11 | HALF-TIME
FRANCE 14:13 DENMARK
This is a completely different game to the one we saw on Wednesday night in Budapest. Notably, Vincent Gerard has stepped up, and it took Niklas Landin a while to find his form. 
It's good to see Kentin Mahe back - he's scored two so far - but it doesn't look as though Mathias Gidsel will play any further part in the tournament, as he didn't return after going for treatment on his injury sustained in the opening minutes. 
Vincent Gerard was ready to play today for sure. After a performance below his best in the semi-final against Sweden, he held a mighty 61 per cent save rate after 17 minutes in this bronze-medal game, although Niklas Landin has since improved his own rate and both keepers end the half with 12 saves. But the keepers are not the only standout individuals in this clash — France wings Hugo Descat and Yanis Lenne were responsible for all France's goals until past the 10-minute mark. For Denmark, Jacob Holm was the only player to score more than one until the 22nd minute, when he already tallied five. So, we have some heroes emerging in this match — who will be rewarded with the medal?
16:05
As Niklas Landin picks up his save rates, Denmark are level and staying that way. 
15:57
Momentum shift! Jacob Holm and Niclas Kirkeløkke, who were so good for the majority of Denmark's last game against France, are on court and Kirkeløkke makes it a one-goal game. Holm has scored five times, despite spending a chunk of time on the bench. 
15:50
France maintain a three-goal lead after Hugo Descat scores the first penalty of the match. It was awarded after Niclas Kirkeløkke fouled Kentin Mahe as he tried to shoot.
15:46
First timeout called by Nikolaj Jacobsen, after Denmark prevented France from scoring and regained possession. The men in red need to find some solutions to break through the French defence, which is proving effective and is helping Vincent Gerard stop more shots than he's managed in the last few matches.

15:43
Denmark equalised at 4:4, but a 3:1 run with two from Yanis Lenne put France back ahead 7:5.
Jacob Holm is now on the bench looking winded and being looked after by the trainer. 
15:37
On Wednesday, it was Denmark who took an early lead, with Niklas Landin saving everything. Today, it's France with the early lead and Vincent Gerard is making more saves - five already, more than he managed in the whole semi-final.
15:33
Not a great start for Denmark. After France repel their first attack, Mathias Gidsel trips on the way back up the court and falls, and then Henrik Møllgaard trips over him. That's the All-star Team right back off the court for a bit.
15:29
The French and Danish anthems sung for the last time at the EHF EURO 2022, we're ready for throw-off!
15:15
Head-to-head across this tournament, France have scored 246 goals from 383 shots - an efficiency of 64.2 per cent. Denmark have scored 239 goals from 384 shots (68.7 per cent). Denmark have conceded 205 goals, and France 213.
Denmark do a lot more passing, with 5,532 passes made compared to 4,989 for France, but the French players have run more, notching up a total 253.6km in eight matches against 231.8km for Denmark.

14:50
Mikkel Hansen has been ruled out of today's bronze-medal match after picking up an injury in the semi-final. That means that Iceland's Ómar Ingi Magnusson is likely to be confirmed as the tournament's top scorer at the end of tonight, as he has an 18-goal lead over Hampus Wanne, the next active player on the list.
14:30
Just an hour until France and Denmark play for bronze. Denmark haven't beaten France for two years, in the World Championship semi-final in 2019, and they've never beaten France at an EHF EURO. 
They also met in the bronze-medal match in 2018, when France won, and France won last year in the Tokyo 2020 Olympic Games final.
So a win for Denmark today would be a real milestone achievement for the world champions. What have they got?
13:25
Don't miss the All-star Team videos - we're sharing them one-by-one on social media, or click here for the full team on YouTube. 
13:10
We're rather enjoying Spain's countdown to the final on social media. They've adopted a slogan of "we are wolves" for this tournament, and there's a new picture of a player looking suitably wolfish every hour.

12:00
It's here, the Men's EHF EURO 2022 All-star Team - with Sweden's Jim Gottfridsson as MVP. Find out more about the chosen players.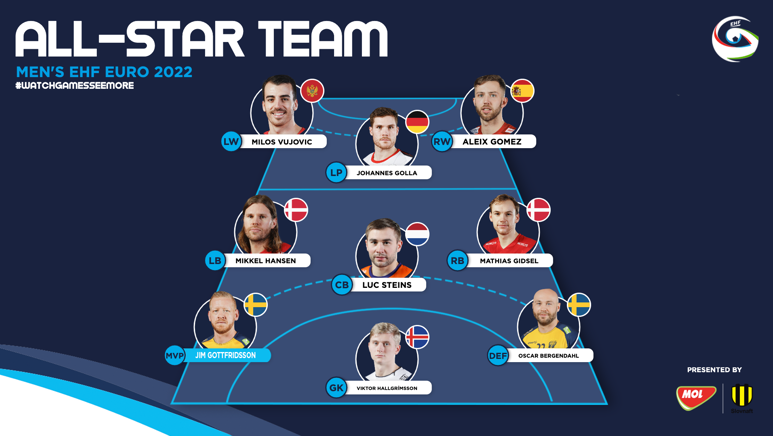 11:55
Ahead of the bronze-medal match, both Denmark and France have confirmed they have a full squad at their disposal with nobody in isolation. That means Kentin Mahe is available and was listed yesterday on France's list of 21 possible players.

11:45
Yesterday we focused on the contribution Spanish goalkeeper Gonzalo Perez de Vargas had made to his team reaching the EHF EURO 2022 final. Today, EHF journalist Courtney Gahan has looked at his counterpart, Andreas Palicka, and why he will be critical this evening.
11:08
Nikola Karabatic is widely acknowledged as one of the legends of handball. He has been playing internationally for nearly 20 years and tonight's bronze medal match will be his 71st EHF EURO game - more than any other player, ever. He's also catching up to his friend Gudjon Valur Sigurdsson as the tournament's top scorer, needing nine goals to match the Icelander. 
EHF journalist Kevin Domas talked to Karabatic about his career.
10:30
Good news for Sweden. After they missed the semi-final, Niclas Ekberg, Hampus Wanne and Felix Claar have been cleared to play in this evening's final. Eric Johannesson, Hampus Olsson and Felix Möller miss out. 
Sweden's whole team for tonight can be found here.
10:00
After 63 matches and more than two weeks of action, it's Men's EHF EURO 2022 finals day. At 18:00 CET this evening Sweden and Spain play a rematch of the 2018 final. Sweden are going for a historic fifth victory 20 years after their last one; Spain are hunting three trophies in a row. 
Before that we'll warm up with the bronze-medal match. Neither Denmark or France want to go home empty-handed, but only one of them can succeed in that aim. That's at 15:30 CET.
For the last time, the blog will keep you up to date with everything going on in Budapest as we build up to the final matches.