EHF Champions League
Summary: CSKA, Györ and Rostov still unbeaten after round 7
Women's top-flight club handball is back after a one-week break, and it has brought plenty of action with not only five DELO EHF Champions League round 7 matches, but a bonus round 8 clash.
The live blog is here to keep you on top of all things happening before, during and after the matches.
SUNDAY 8 NOVEMBER
16:45
We wrap up this afternoon's action as usual with the best photos from the day. Next week round 8 begins in earnest as the teams meet their opponents from round 7 again in the return match of the double header. Keep following us on the website and social media for previews and features as the competition begins to hot up!
16:32
Check out this compilation of Polina Vedekhina's best goals from MOTW!
16:30
Although this is the round 7 blog, of course we had that sole round 8 game today and here's the match review: Györ again too strong for Dortmund.
16:22
A few words from the CSKA vs Odense press conference now. Odense coach Ulrik Kirkely said he was disappointed his team could not show their top game.
"We know that to win in matches like this we need to show a much better performance," Kirkely admitted.
CSKA coach Jan Leslie dedicated the victory to injured Elena Mikhaylichenko.
He did not want to give away too much about his side's tactics, ahead of the club's visit to Odense next week, but said: "We manage to do many good things tactically and physically in defence when we play with the strong teams. I think that the key moment was that other teams were not ready for individual situations with Odense's players. But we were ready for this."
Despite being named Player of the Match, Polina Vedekhina said she was not satisfied with her performance. She said Leslie had helped CSKA calm down after losing 25:26 to Rostov in the Superliga on Tuesday, resulting in today's victory.
16:14
Our MOTW review details how CSKA romped to another victory, despite missing some key players through injury. Read it here: MOTW: Merciless CSKA claim fifth straight victory.
16:10
Some thoughts from Györ after the match. Dortmund coach Andre Fuhr said the double-header taught his team a lot about playing at this level of the competition.
"We enjoyed playing here very much, it was the best place to learn and we go home with satisfaction," he said, despite the two losses.
Meanwhile Györ coach Danyi Gabor said: "We started very well, which gave a good basic level to our performance. We made a lot of changes, I could give everyone the opportunity to play and to rest too."
His star Eduarda Amorim agreed that this was useful for the team.
"It was important to be able to change because we had only two back court players and I think the opponents kept up the fight, which I can feel in my body," she said.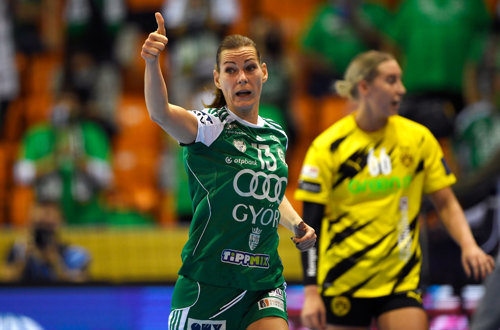 16:05
That's round 7 over and here are the results. CSKA and Györ continue to look dominant in group B, CSM and Rostov-Don are doing well in group A, and SG BBM Bietigheim recorded their first win in Hungary yesterday.
15:52
With six goals, Polina Vedekhina was named Player of the Match for CSKA - but can you identify the false fact about her in today's quiz? Test your knowledge below!
15:29
FULL-TIME: CSKA wrap up yet another win and add a further two points to their total - their dream EHF Champions League debut continues. It was a match characterised by a lot of missed shots and saves, but ultimately the home side's extra aggression paid off.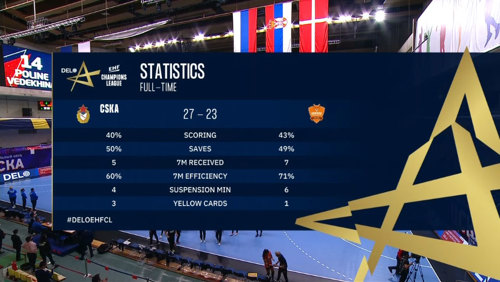 15:23
FULL-TIME: Györ looked scarily efficient against Dortmund tonight in their round 8 match, winning by an even bigger margin than they did on Friday in round 7.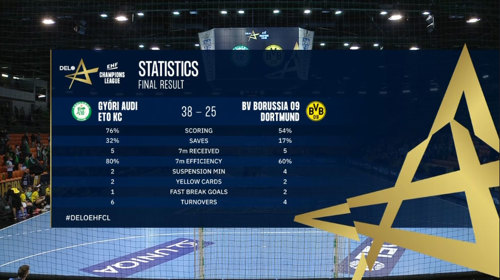 15:19
Here's the moment the tide definitively turned for CSKA, thanks to Dmitrieva.
15:13
None of CSKA's matches so far this season have been very high-scoring - they netted 30 goals against both Brest Bretagne and Valcea. Odense's lowest score so far this year was their 24:31 loss to Brest in round 6. 
15:10
Two goals by Darya Dmitrieva followed by one from Polina Gorshkova and CSKA are six goals up at 24:28. Odense need to act to have any chance of winning this, but they're making too many technical errors right now.
15:03
Kathrine Heindahl played for Odense for three years before joining CSKA this season, and here she faces her former teammate Althea Reinhardt unsuccessfully as the Odense goalkeeper tries to keep her team in touch.
15:00
Lois Abbingh steps up for her third penalty shot of the match, and it looks as though Polina Kaplina has her hand on it. But Abbingh snatches the rebound and nets. 18:15 to CSKA with just under 10 minutes of the second half played.
14:47
Eduarda Amorim to Beatrice Edwige - beautiful handball from Györ.
14:41
HALF-TIME: Anne Cecilie de la Cour nets on the buzzer to keep the gap at three goals, but it's CSKA with the advantage going into the dressing room. It was a slightly scrappy first half with plenty of missed shots as well as saves, but the home side are in with a good chance of maintaining their unbroken record.
In the round 8 match in Györ, the Hungarian club hold a solid 19:11 advantage over Dortmund.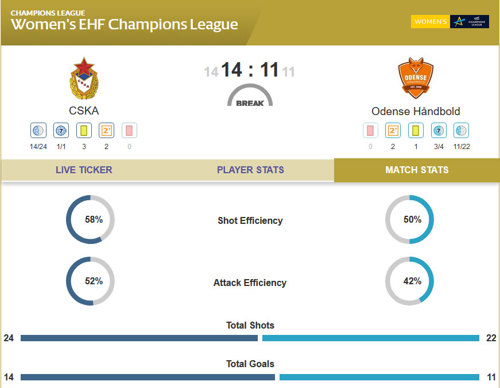 14:27
Another timeout with the score at 12:9. Odense are battling to make up the gap, with Cornelia Groot proving particularly effective, but CSKA are holding on to their lead right now.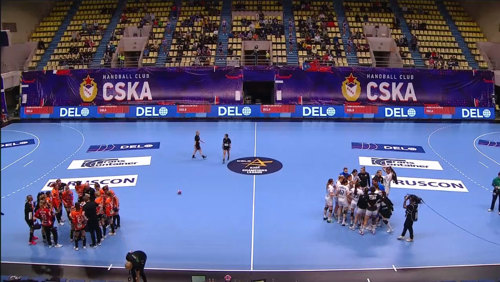 14:20
Oops - Helena Hagesø fumbles the ball and CSKA pounce, but are unable to score after Sara Ristovska sends her shot wide past the goal. Both sides are making a few mistakes, actually, and the score has remained unchanged at 10:7 for the last few minutes.
14:14
A string of CSKA goals, including two from Polina Vedekhina, puts the home side 9:5 up and Odense have called a timeout.
Over in Györ, the record champions have started out much more strongly than they did on Friday and lead Dortmund 9:2. 
14:08
Odense right wing Ayaka Ikehara is both the only Japanese player in the DELO EHF Champions League, but also the smallest player in the competition at 158cm. She's just scored her first goal this match to level at 4:4.
14:03
Matches underway, and it was a superb start for CSKA. After a quick goal from Antonina Skorobogatchenko, Polina Kaplina saved a penalty shot by Lois Abbingh. Cornelia Groot has just equalised for the visitors, and both teams are settling into the match.
13:48
Tune into EHFTV.com for coverage of both of today's matches, which throw off in a little more than 10 minutes. CSKA are currently showing a fabulous light show to welcome the teams - it's pretty cool!
13:42
Don't forget to follow us on Instagram for plenty of exclusive behind-the-scenes action from today's MOTW. Already, Face of the Champions League Anja Althaus has had Breakfast with Champions Kathrine Heindahl (CSKA) and Lois Abbingh (Odense).
13:15
Welcome to coverage of today's DELO EHF Champions League matches. In round 7 CSKA play Odense in the Match of the Week, while Györ complete their double-header against Dortmund and start round 8. 
CSKA have had an astonishing Champions League debut and before this round had more points than any other team in the group phase. A few other facts about today's match:
CSKA and Odense have never played each other before - and Odense have never won a European Cup match in Russia
Lois Abbingh returns to Russia after two seasons with Rostov-Don; today she'll face former teammates  Anna Sedoykina and Marina Sudako who joined CSKA this summer
Odense will face two Danes in this MOTW: coach Jan Leslie and line player Kathrine Heindahl, who moved from Odense to CSKA in the summer of 2020
CSKA's 19-year-old Elena Mikhaylichenko is second on the CL top scorers list with 32 goals; Odense's

Nycke Groot is third with 25; however Mikhaylichenko will not start today
20:36
That's it from us for Saturday's round 7 line-up! Join us tomorrow for the last game of the round this weekend, the Match of the Week CSKA vs Odense, as well as the bonus round 8 game, Györ vs Dortmund.
Keep an eye on the EHFCL Instagram during the day tomorrow for the Breakfast for Champions series, with Odense's Lois Abbingh and CSKA's Kathrine Heindahl guest starring!
We leave you with the best photos of today's matches. Enjoy! 
19:53
Despite a big game from Krim keeper Jovana Risovic, CSM held their nerve and earned victory in Slovenia thanks to a powerful late surge to secure the two points. Read our full report on the game here. 
19:45
Now to the table standings! 
Today's DELO EHF Champions League action was all group A, and with the Vipers vs Metz match postponed, we will not see further movement on this table this weekend. 
CSM Bucuresti started the day as group leaders and will remain there thanks to their win over Krim, which took them to 10 points. Rostov have jumped from third to second, with their victory against Team Esbjerg taking them to nine points.
Due to their losses, FTC, Esbjerg and Krim stay right where they are, in fifth, sixth and seventh positions. FTC remain on four points, while Esbjerg and Krim have three. But all three sides now have less of a comfortable lead over Bietigheim, who remain last on the standings but are now on two points and with the potential to leapfrog Esbjerg and Krim. 
19:40
Let's take a look at what tonight's results mean regarding the overall season standings. First up, the top scorer list! 
We've had some movement with the frontrunners today, after Bietigheim and Esbjerg's matches. Julia Maidhof (BBM) and Mette Tranborg (Esbjerg) moved up to second and third on the ladder after scoring seven and three goals, respectively. 
Brest's Ana Gros remains well ahead however. 
See the top 50 scorers of 2020/21 so far here. 

19:34
One of the top scorers for CSM tonight was Barbara Lazovic (five goals, alongside Alexandrina Cabral). Some years before joining CSM Bucuresti, the Slovenian spent seven seasons with Krim, starting her European cup career with the club back in 2007/08.
Here's one of her best goals in the clash against her former club.
19:26
FULL-TIME IN SLOVENIA
CSM hold on and collect the two points, reclaiming their spot on top of the group A standings.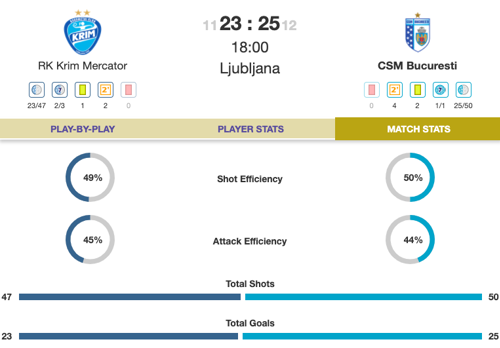 19:20
CSM are holding on to the lead, 25:22, as we enter the last five minutes. Will we see another comeback from Krim?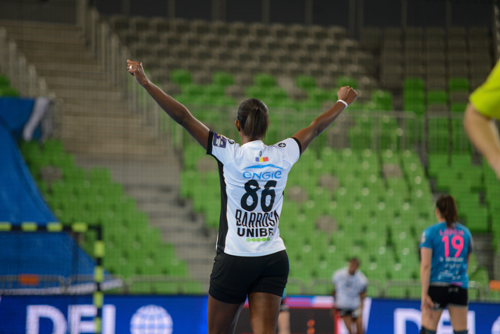 19:08
Back and forth we go! Neither side is able to hold the lead for long in this clash. Inside the last quarter of the game, CSM prompt a timeout from Krim as they pull in front to 21:17. 
Alexandrina Cabral Barbosa and former Krim player Barbara Lazovic are doing the most damage for CSM, with four goals apiece so far. 
18:59
I've mentioned Da Silva Vieira as a key player at the attacking end of the court, but saves like this one from Jovana Risovic have also helped Krim take the advantage over CSM. 
18:56
We're back with the second half of Krim vs CSM, and the Slovenian team have carried their momentum past the break as they waste no time claiming the lead. Krim now have the upper hand at 15:13 thanks to Da Silva Vieira's sixth goal. 
18:44
Not sure exactly what preceded this moment, but it's nice to see Crina Pintea and Natasa Ljepoja having a laugh together in between the action in this fiery game.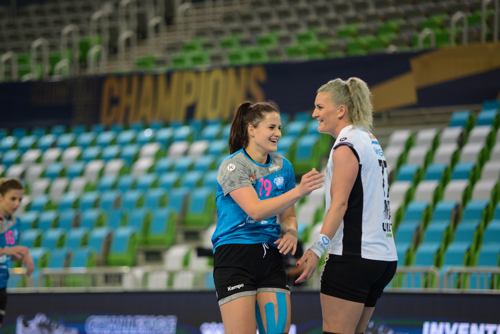 18:40
Da Silva Vieira was an important attacking weapon for Krim in the first half. Here's one of the best of her five goals. 
18:35
From a deficit of 7:12, Krim pull CSM back within reach with a great finish to the half. Just one goal separates the sides as we go to the break.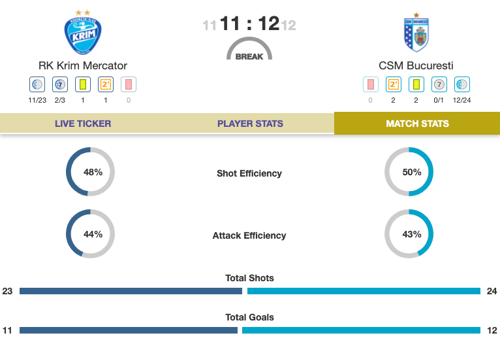 18:23
Krim certainly picked up their game following coach Bregar's timeout, drawing level at 6:6 only a few minutes later, but CSM have now opened a more commanding lead. The Romanian side are in front 12:7 in the 23rd minute.
Krim back Samara Da Silva Vieira is showing her value as an important new arrival in Slovenia this season, with five goals so far to add to her overall season tally of 27.  
18:11
Rostov are in fine form this season, with no losses so far and only one point dropped. Their win over Esbjerg took them to an unbeaten run of seven games (including last season) in the Champions League.
Adrian Costeiu outlines the key points on the encounter here.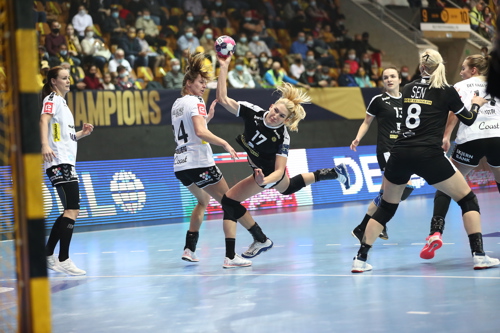 18:08
Krim coach Uros Bregar calls his first timeout after CMS reach a 5:1 lead six minutes in. We've seen some great comebacks from the Slovenian side this season, so the fight is obviously far from over, but an undesirable start for Krim nevertheless.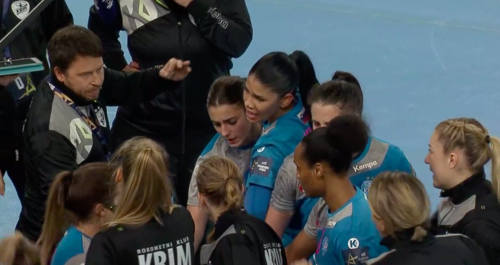 18:05
The last match of the day is now live, with CSM immediately taking charge to lead 3:0 after the opening minutes.
Follow the live ticker for this game here. 
17:55
Bietigheim's win against FTC was their biggest in EHF Champions League history, and only their second away win ever in the competition! Adrian Costeiu takes you through this and other key facts regarding the match here.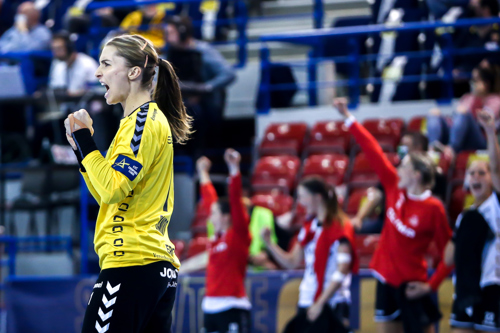 17:43
We are not far from the third DELO EHF Champions League match of the day, Krim vs CSM, throwing off at 18:00 CET. Watch here. 
If CSM win, they will extend their winning streak to three matches and knock Rostov off the top spot just claimed by the Russian side with their victory over Esbjerg. 
CSM have won five of the six matches played against Krim so far. Krim have three points ahead of this encounter.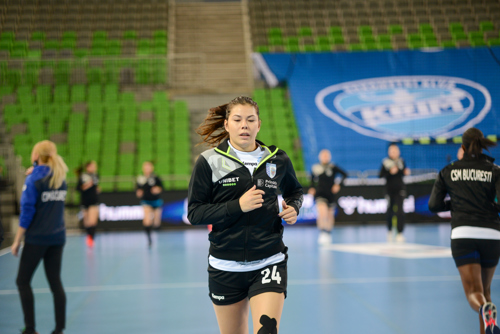 17:33
Rostov vs Esbjerg was headlined by two players who were clearly the most dangerous to their opponents' goal. Managarova finishes with seven goals from nine attempts, while Jacobsen claims the top scorer crown with eight goals at 100%.
17:30
FULL-TIME IN RUSSIA
Rostov move up to nine points to (at least temporarily) lead group A as they hold off Esbjerg and secure the home victory.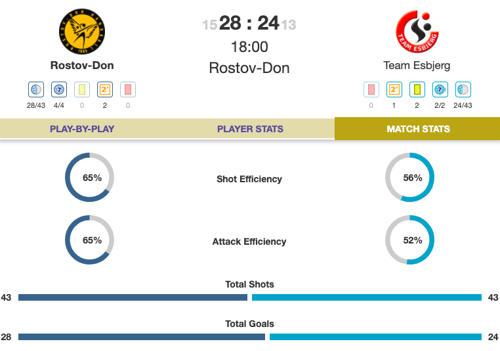 17:27
FULL-TIME IN HUNGARY
They had to wait until round 7 to do it, but Bietigheim finally open their account as they collect their first points of the season in style, defeating FTC by 11 goals in quite an upset.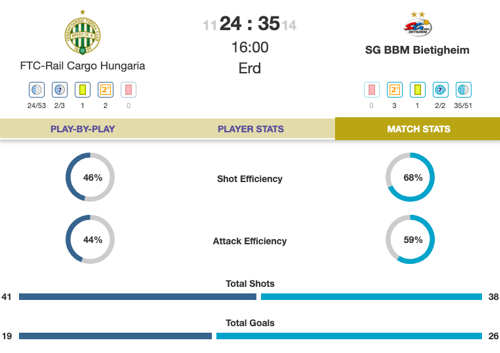 17:21
It's a rollercoaster ride between Rostov and Esbjerg, with the Russian side now in front by two, 25:23, with five minutes on the clock. 
17:10
As we move into the final quarter of both matches, FTC's nightmare continues, with their visitors leading 26:19. The Hungarian side have only narrowly decreased the deficit.
Rostov cannot quite shake Esbjerg, having pulled ahead to 22:19 but now seeing a lead of only one as the Danish side strike back yet again, 22:21. 
Check out a great earlier goal from Esbjerg below. 
17:03
At the 42-minute mark in Russia, Esbjerg have pulled the game back to level at 19:19. The Managarova vs Jacobsen shooting contest continues, with both now on seven goals at 100% accuracy.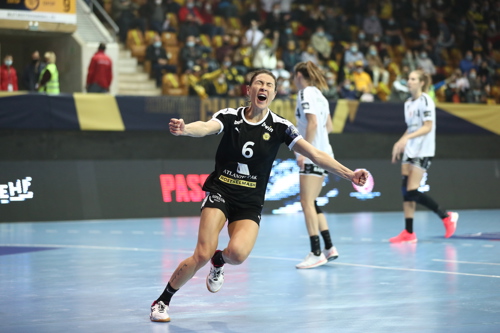 17:01
FTC coach Gabor Elek has been forced to call his second timeout of the second half only nine minutes in, as Bietigheim have tightened their hold on the game to lead 22:14.
16:54
We are back with the second halves of both matches now underway. 
Four minutes in in Russia, Managarova has struck yet again to take Rostov to a 17:14 lead vs Esbjerg. 
Meanwhile in Hungary, Bietigheim are also increasing their lead, now at 18:13 as Trine Ostergaard hits a three-goal tally. Here's an earlier goal from the Danish international!
16:49
Overall, it has not been FTC's strongest shooting performance so far. The Hungarian side's shooting efficiency of 41% against Bietigheim's 58% is a telling statistic. 
But FTC have managed some great goals to entertain their fans nevertheless, like this one from Nadine Schatzl. 
16:40
HALF-TIME IN HUNGARY
FTC managed to draw level in the middle stages of the half but Bietigheim did not let that last long. The visitors from Germany take the advantage into the break.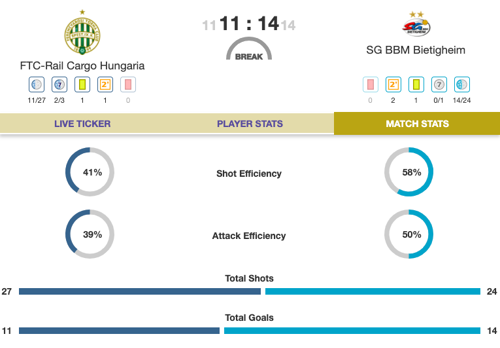 16:35
HALF-TIME IN RUSSIA
After a shaky start, Rostov are in control at the break vs Esbjerg.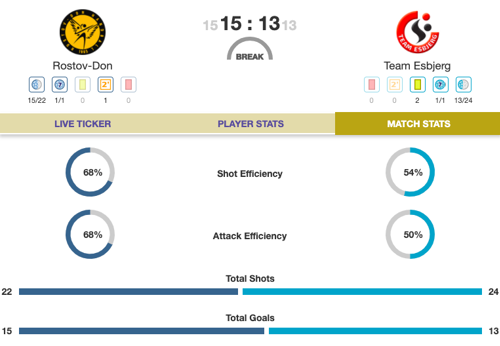 16:27
The story is quite different in Hungary, with FTC still fighting to decrease the distance to Bietigheim. The German team are in front 13:9 with six minutes until half-time.
FTC's Katrin Klujber has netted four goals so far to lead the match. 
16:26
Managarova has just added her fourth goal, to push Rostov to a 14:12 lead vs Esbjerg with little over five minutes left in the half.
It's the first advantage of more than one goal for the hosts since they took the upper hand for the first time in the 16th minute. 
Enjoy Managarova's first goal to open scoring for Rostov below! 
16:06
The away sides are both off to a stronger start than their hosts, with BBM taking an early lead at 3:2 in the sixth minute, while Esbjerg have the edge over Rostov, 5:4, in the seventh. 
Both visiting teams had larger gaps just moments ago so it's clear their advantages may not last long. 
In Russia, Iuliia Managarova (Rostov) and Marit Jacobsen (Esbjerg) have had a big impact in the opening minutes, with both netting three goals from three shots for their side already. 
16:03
We are underway in Hungary and Russia! If you can't watch live, then follow the live tickers, with up-to-the-minute scores and statistics.
Find the Rostov vs Esbjerg ticker here; FTC vs BBM here.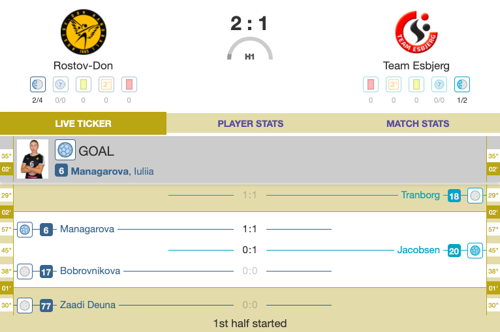 15:45
Also throwing off at 16:00 CET are FTC vs Bietigheim, with the German team still on the hunt for their first points of the season. FTC have four points from two victories. 
FTC welcome Katrin Klujber, Noemi Hafra and Emily Bölk back in this match, so the visitors certainly have their work cut out for them. The Hungarian side also have the historical balance in their favour, with three wins in four previous matches. 
15:20
Rostov and Esbjerg are one of the first up today, with throw-off in 40 minutes.
This match sees Esbjerg with the difficult task of trying to end their longest-ever run without a Champions League win (four consecutive games) away on Rostov's court.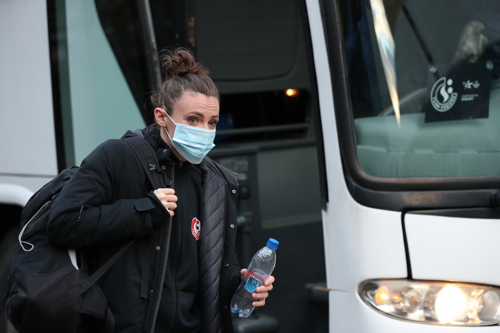 In contrast, Rostov are looking to extend their unbeaten run, which sees them currently occupying third place on the group A table, but level on points with second-ranked Vipers.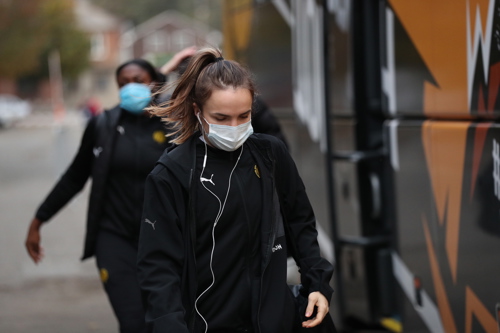 In four previous encounters, Rostov have beaten Esbjerg three times and the Danish side have won once. Last season, each team won on their home court. 
SATURDAY 7 NOVEMBER
15:10
Hello and welcome to day two of round 7! Courtney Gahan here to guide you through Saturday's action. 
Today we have three DELO EHF Champions League clashes to look forward to:
16:00 CET Rostov-Don vs Team Esbjerg
16:00 CET FTC-Rail Cargo Hungaria vs SG BBM Bietigheim
18:00 CET RK Krim Mercator vs CSM Bucuresti 
Read the round preview. 
21:03
That is it for Friday's short and sweet evening of action in the DELO EHF Champions League. We are back on Saturday with three matches as part of a jam-packed weekend of handball on EHFTV.
We leave you with some of the evening's best shots and be sure to join us right here for more tomorrow afternoon.
20:29
Let's get some reaction from the two coaches after tonight's clash and first up is Györ's Gábor Danyi:
"I am very satisfied with the victory today and I am happy that we could save some power, which we will need because of the two matches.
"I am very grateful for Dortmund that they were partners in organising our matches this way – I think it is advantageous for both of us. Our opponent played a very good game, I hope they will be at the international level in the future as well – I wish them good luck."
Dortmund's Andre Fuhr said:
"It was very nice to come here to the home of women's handball. We have a very young team and I am very proud of them because they were fighting till the end.
"It was very hard for us but I think we could perform well. We have to relax and prepare for the match on Sunday."
20:09
I mentioned 'Queen Anita' and her special anniversary earlier. Well, here she is, 20 years later and still producing the goods.
19:56 - RESULT: BV Borussia 09 Dortmund 24:34 Györi Audi ETO KC
There you have it, a very confident victory for Györ as they extend their unbeaten run and go top of group B, one point ahead of CSKA having played one game more.
Dortmund remain in sixth place with two points but with two more matches played than the sides below them.
19:45
We are into the final eight minutes of tonight's contest and while Györ still hold a 10-goal lead, now 32:22, both sides have kept the intensity right up.
Györ are taking the opportunity to rotate the bench more in this final quarter, which gives 18-year-old right back Laura Kürthi the opportunity to score her first goal of the game and the season.
19:31
Stine Oftedal is really coming into her own in this second half, floating around the back court with ease, scoring and setting up goals like nobody's business.
Dortmund, for their part, have looked to increase their pace in attack as settled 6 vs 6 play simply isn't working against this Györ defence anymore. It's 26:16 with 17 minutes left on the clock and this fan's prediction earlier is looking spot on.
19:22
The second half is underway and it begins with a screamer of a goal from long-range by Dana Bleckmann. It may be difficult to see a way back for Dortmund tonight but a big second-half performance is important for them to give Györ something to think about with the reverse fixture between the sides just two days away.
19:15
Eduarda Amorim leads the scoring for Györ so far, with five goals, followed by Anita Görbicz on four.
The legendary Görbicz celebrated a special anniversary yesterday as it was exactly 20 years since her first European club game in her career.
On 5 November 2000, Györ beat MKS Lublin 23:19 in EHF Champions League Qualification Round 2 with 17-year-old Anita scoring a vital four goals in what was the beginning of an incredible journey for her and her lifelong club.
19:10 - Half-time: BV Borussia 09 Dortmund 11:19 Györi Audi ETO KC
It was a promising start for Dortmund, particularly from Jennifer Gutierrez, but as the first half wore on the German side began to run out of ideas as Györ shored up their defence and put their strength in depth to good use.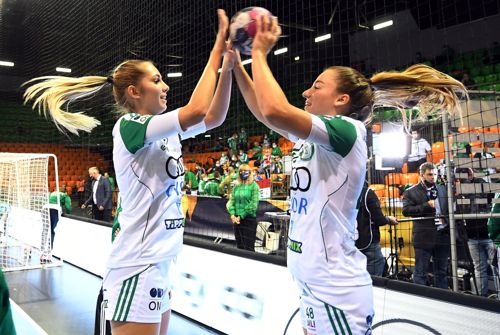 18:59
It will not surprise too many of you to learn that Györ have moved up the gears and got a firm hold of this match now. They went on an 8:2 run before Dortmund knew what hit them and now lead 18:10 as we approach half-time.
18:48

A solid penalty save from Isabell Roch gives Dortmund an opportunity to draw level down the other end of the court but Amandine Leynaud has other ideas. Györ coach Gabor Danyi has taken an early timeout, in which he focused on defence. His talk has paid dividends and before you know it, the home side lead 10:7.
18:39
12 goals shared between the sides in the opening 10 minutes with Györ looking the slightly better side. It's a positive start for Dortmund, however, as they have managed to avoid being blown away in the opening minutes, a fate to befall many a team stepping onto the court in Györ.
18:15
Not long to wait before we get some Friday night handball started in Györ. Despite the tough start to the season for Dortmund, they know that they are capable of doing something special. They were so close to proving it against CSKA before almost literally throwing their chance away.
17:00
Hosts Györi Audi ETO KC will be disappointed with anything less than four points from their double-header against Dortmund.
The title-holders are keeping their unbeaten streak going for over two years now, but were close to losing it already twice in five games this season, though they narrowly escaped defeats before earning late draws against CSKA and against Brest.
A win will put Györ, currently on eight points, in the lead of group B for at least until Sunday, when rivals CSKA and Odense go head to head in the Match of the Week.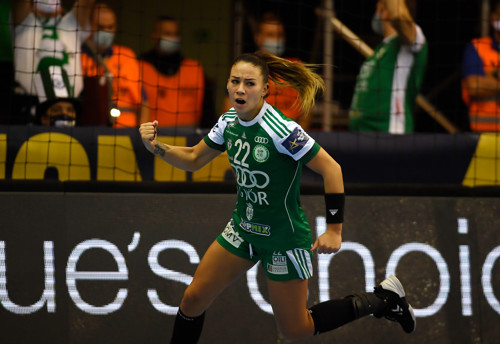 16:27
BV Borussia 09 Dortmund are learning to know the EHF Champions League the hard way.
The German champions - although not officially awarded the title when the Bundesliga season 2019/20 was cut short in March - have two points after five games (current standings).
And with 155 conceded goals, Dortmund have the least effective defence in group B, and the second-worst in the whole competition, after fellow German side Bietigheim.
Dortmund celebrated one win so far, and that came in an away game at Podravka Vegeta in round 3. So, maybe playing their 'home' game in Györ tonight instead of Dortmund is no big disadvantage?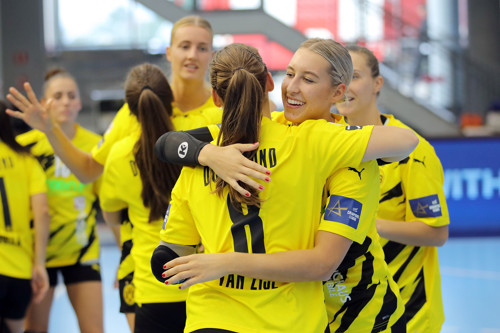 15:46
So it will be debutants vs five-time champions when Dortmund and Györ start the party tonight.
Dortmund are new to the DELO EHF Champions League, and despite some past experience in EHF Cup, Challenge Cup and Cup Winners' Cup, the German team has never played against Györ before.
Well, that will truly change soon with two duels within three days, as the clubs agreed to play their round 7 and round 8 duels both this weekend, and both in Györ:
round 7, Friday at 18:30 CET: Dortmund vs Györ (in Györ)
round 8, Sunday at 14:00 CET: Györ vs Dortmund
14:54
It is pretty exciting to have DELO EHF Champions League handball also on Friday this time!
But before we focus on tonight's game in Hungary, let's have a quick look at the highlight match coming up on Sunday. In group B, leaders CSKA are hosting Odense Håndbold in the Match of the Week.
Definitely a special occasion for Kathrine Heindahl, who swapped her Odense jersey for the one from CSKA last summer.
EHF journalist Sergey Nikolaev caught up with the Danish line player for this interview of the week.
14:30
Good afternoon, welcome to the live blog for round 7, and even a bit of round 8, in the DELO EHF Champions League this weekend.
The match schedule is somewhat unusual, with one match already on Friday and one match brought forward from next round, but we are happy to guide you through all the action.
A good starting point, like every playing weekend, is the round preview from EHF journalists Adrian Costeiu and Sergey Nikolaev.