Men's EHF EURO 2024 - Mannheim
MANNHEIM
PRELIMINARY ROUND
Mannheim is located at the confluence of the Rhine and Neckar and, with 318,000 inhabitants, is the third-largest city in the state of Baden-Württemberg. The city of Mannheim is not only characterized by its unique square structure, it is also an important business location in the Rhine-Neckar area, where numerous globally operating companies have settled. The Rhine-Neckar region is the seventh-largest conurbation in Germany and offers around 2.3 million people a living space that is enriched with numerous offers from culture, education, art and many opportunities for leisure and relaxation.
The city is connected to Ludwigshafen am Rhein by two bridges. World-famous Heidelberg is only a stone's throw away. Mannheim scores with many big-city qualities, but has retained a bit of small-town charm. The former residential city of the Electoral Palatinate is now home to people from around 170 different nations. Mannheim was first mentioned in a document in 766.
The most famous building in Mannheim is the baroque palace. The facade with a length of 440 meters and the wide courtyard make the Mannheim baroque palace one of the largest palaces in Europe. Only Versailles is bigger. 
The Luisenpark is one of the most beautiful parks in all of Europe. Or treat yourself to a stroll through Mannheim's exclusive shopping mile with a fantastic view of the water tower, the city's landmark. Or visit one of the various museums.
Even if Mannheim is not one of the largest cities in Germany, some great inventions come from here. Karl Drais invented the forerunner of the bicycle in 1817. The Siemens company constructed the world's first electric elevator in Mannheim in 1880. And finally, it was Carl Benz who invented the world's the first automobile in his workshop in 1886. In 1888, his wife Bertha Benz drove from Mannheim to Pforzheim and back in this automobile.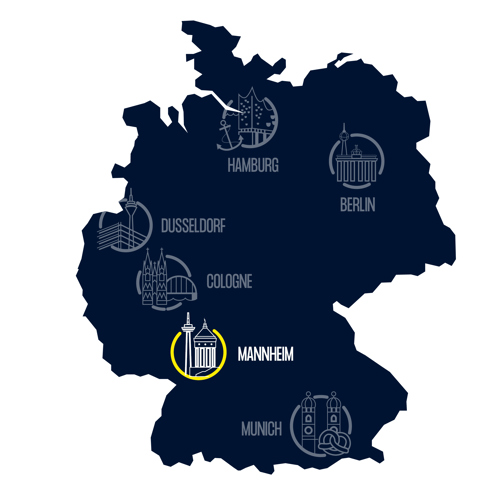 SAP Arena
Capacity: 13,200 spectators
Handball history: The SAP Arena, which opened in 2005, was already a venue of the 2007 IHF Men's World Championship. The German national handball team has played twelve times in the home of the Rhein-Neckar Löwen and attracted more than 100,000 spectators. Since 2005, more than 18,50 public events with over 13 million visitors have taken place in the SAP Arena, including the premiere of the EHF Finals in 2021.
Matches of the EHF EURO 2024: 2 groups of the Preliminary Round
Daniel Hopp, Managing Director of the SAP Arena: "The SAP Arena and the city of Mannheim are ready for the next international handball tournament after the 2007 World Cup. The disappointment was particularly huge not being selected as hosts for the 2019 IHF Men's World Championship. We are all the more proud to bring the Men's EHF EURO 2024 to the Rhine-Neckar metropolitan region. The anticipation is already indescribable."