HAMBURG
MAIN ROUND
With around 1.85 million inhabitants, Hamburg is the second-largest city in Germany and the third-largest in the German-speaking area. With around 755 square kilometres, Hamburg is the second-largest municipality in Germany.
The Port of Hamburg is one of the largest transhipment ports in the world and, together with the international airport, makes Hamburg an important logistics location. Economically and scientifically, the metropolis is particularly important in the fields of aerospace technology, life sciences and information technology as well as for the consumer goods industry and as a media location. Since 1996, Hamburg has also been the seat of the International Tribunal for the Law of the Sea (ISGH).
Hamburg is experiencing strong growth in international city tourism. The Speicherstadt and the neighbouring Kontorhaus district (former parts of the old warehouse district) have been part of the UNESCO World Heritage since 2015.
Other well-known cultural monuments and landmarks are the Hamburg City Hall and the five main churches. Many clinker facades and the proximity to the water with numerous rivers, canals and canals are typical of the cityscape. The St. Pauli entertainment district with the Reeperbahn and the Elbphilharmonie concert hall, which opened in 2017, are also internationally known.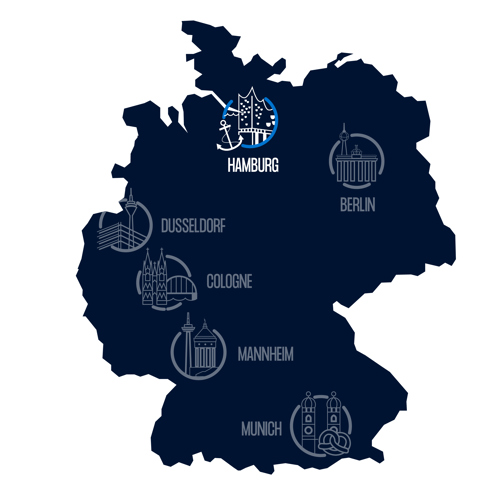 Barclays Arena
Capacity: 13,300 spectators
Handball history: Major national and international handball events have taken place here since 2002: in 2007 and 2019 Hamburg was hosting city of the IHF Men's World Championships, including the semi-finals, in 2017 the final weekend of the IHF Women's World Championship took place there - and year after year the final tournament of the Men's German Cup is staged in the Barclays Arena.
Matches of the EHF EURO 2024: Main round
Peter Tschentscher, Lord Mayor of Hamburg: "Hamburg is delighted to be taking part in the main round of the EHF EURO 2024 and to welcome the teams from our European neighbors. We are an active and sports-loving city with a wealth of experience hosting international sporting events. And: Hamburg is ambitious in handball and is ready for a big handball festival in 2024!"

The second-largest city in Germany, Hamburg, will host one main round group consisting of teams coming from preliminary round groups D, E & F. The competition in Hamburg's Barclays Arena starts on 17 January 2024 with the match times set at 15:30, 18:00 and 20:30 (all times local). 
In total, there are 12 matches in the 13,300-seat Barclays Arena played across four days. Who will make it to Hamburg we cannot foresee, but what we can guarantee is great handball so head to tickets.eurohandball.com and grab your tickets!