Men's EHF EURO 2024 - Munich
MUNICH
PRELIMINARY ROUND
Munich is the capital of Bavaria. With 1,488,202 inhabitants it is the most populous city in Bavaria, the third-largest municipality in Germany and with 4790 inhabitants per square kilometre the most densely populated municipality in Germany. The city forms the centre of the metropolitan region of Munich (around 6.12 million inhabitants).
Munich calls itself a cosmopolitan city with a heart and is considered as a centre of culture, politics, science and media. It is the headquarters of numerous corporations, including Allianz, BMW, Munich Re, Siemens and MTU. In the 2018 global ranking, Munich took third place out of 231 major cities worldwide in terms of quality of life.
Munich was first mentioned in documents in 1158 and became the sole capital of Bavaria in 1506. Munich is the seat of numerous national and international authorities as well as important universities and colleges, high-level museums and theatres.
The city is an attraction for international tourism due to a large number of buildings worth seeing, including UNESCO-protected monuments and ensembles, international sporting events, trade fairs and congresses as well as the world-famous Oktoberfest or the Hofbräuhaus and the Olympic Park.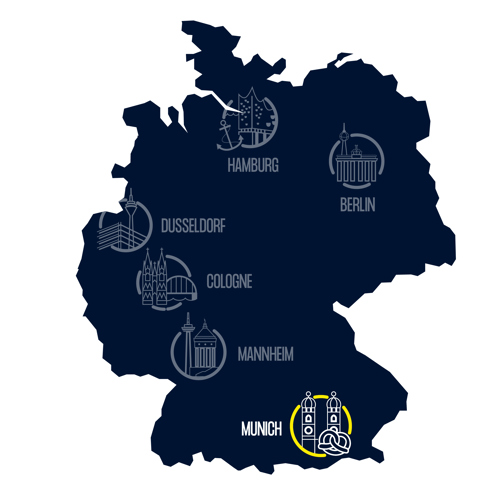 SAP Garden
Capacity: 11,500 spectators
Handball history: The SAP Garden in the Olympic Park is under construction - and later on will become the home of the Bayern Munich basketball team and the Red Bull hockey club. The Olympic Hall, which was the scene of the first Olympic tournament in indoor handball in 1972 and hosted a round group at the 2019 IHF Men's World Championship, stands for handball history. In between, there were numerous international matches and several times the Supercup of the Handball Bundesliga.
Matches of the EHF EURO 2024: 2 groups of the Preliminary Round
Dominik Klein, World Champion 2007 and three times EHF Champions League winner: "Bavaria can play handball" was the motto of the IHF Men's World Championship 2019 in the Olympic Hall in Munich, and the event was a huge success. Why should it go wrong 100 meters further, in the SAP Garden? I'm sure that everyone in Munich will be thrilled, and not just in Munich, but throughout Bavaria, when the European handball teams show great games in the SAP Garden 2024."