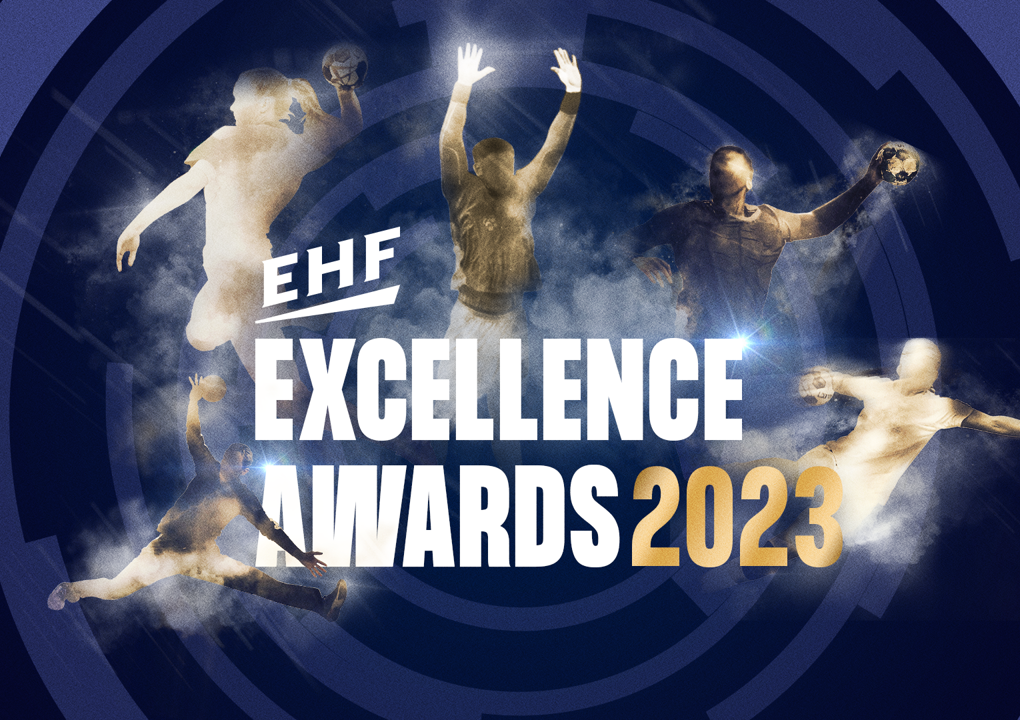 Vote for EHF Excellence Awards 2023 begins
The vote has begun for the female players nominated for the EHF Excellence Awards 2023.
Players, coaches, selected media as well as fans are eligible to participate with each group's votes accounting for 25% of the overall result for every position.
__PRESENT
The fan vote has been opened on Monday within the 'Home of Handball' app. The three remaining groups have been contacted individually.
The Awards – for both men and women – honour the best players in each position: Best goalkeeper, left wing, left back, centre back, right back, right wing and line player plus best defender and rookie of the season. The rookie will be announced and cannot be voted for.
From the seven playing positions and the best defender a season MVP, the Player of the Year, will be selected. The best beach handball athletes receive a dedicated award, ensuring an additional aspect of European handball is covered.
The vote for the female players will run from 15-25 May. The male candidates will be named after the Machineseeker EHF Champions League quarter-finals. Their vote starts on 26 May.
The EHF Excellence Awards Gala Night will take place on 26 June 2023 in Vienna.
Female players nominated for the EHF Excellence Awards 2023
Left wing
Emma Friis – DEN / Ikast Handbold
Jennifer Gutiérrez – ESP / CS Rapid Bucuresti
Elma Halilcevic - DEN / Nykøbing Falster Håndbold
Gréta Márton - HUN / FTC-Rail Cargo Hungaria
Sunniva Næs Andersen - NOR / Vipers Kristiansand
Chloe Valentini - FRA / Metz Handball
Bo Van Wetering – NED / Odense Håndbold
Left back
Emily Bölk - GER / FTC-Rail Cargo Hungaria
Bruna de Paula - BRA / Metz Handball
Djurdjina Jaukovic - MNE / Brest Bretagne Handball
Annika Lott - GER / Thüringer HC
Cristina Neagu – ROU / CSM Bucuresti
Estelle Nze Minko - FRA /Györi Audi ETO KC
Jamina Roberts - SWE / Vipers Kristiansand
Centre back
Daria Dmitrieva - RUS / Krim Mercator Ljubljana
Alina Grijseels - GER / BV Borussia 09 Dortmund
Markéta Jerábková - CZE / Vipers Kristiansand
Stine Oftedal – NOR / Györi Audi ETO KC
Elizabeth Omoregie - SLO / CSM Bucuresti
Henny Reistad - NOR / Team Esbjerg
Grace Zaadi Deuna - FRA / CSM Bucuresti
Right back
Laura Flippes - FRA / Paris 92
Ana Gros - SLO / Györi Audi ETO KC
Dione Housheer - NED / Odense Håndbold
Katrin Klujber – HUN / FTC-Rail Cargo Hungaria
Nora Mørk - NOR / Team Esbjerg
Louise Vinter Burgaard - DEN / Metz Handball
Anna Vyakhireva - RUS / Vipers Kristiansand
Right wing
Viktória Gyori-Lukács - HUN /Györi Audi ETO KC
Nathalie Hagman - SWE / Neptunes de Nantes
Trine Jensen Østergaard - DEN/ SG BBM Bietigheim
Jana Knedlikova - CZE / Vipers Kristiansand
Angela Malestein - NED / FTC-Rail Cargo Hungaria
Jovanka Radicevic – MNE / Krim Mercator Ljubljana
Alicia Toublanc - FRA / Brest Bretagne Handball 
Line player
Maren Aardahl - NOR / Odense Håndbold
Linn Blohm - SWE /Györi Audi ETO KC
Sarah Bouktit - FRA / Metz Handball
Asma Elghaoui - TUN / SCM Ramnicu Valcea
Pauletta Foppa – FRA / Brest Bretagne Handball 
Vilde Ingstad - NOR / Team Esbjerg
Crina Pintea - ROU / CSM Bucuresti
Goalkeeper
Cleopatre Darleux – FRA / Brest Bretagne Handball
Katrine Lunde - NOR / Vipers Kristiansand
Tea Pijevic - CRO / Alba Fehervar KC
Silje Solberg - NOR /Györi Audi ETO KC
Melinda Szikora - HUN / SG BBM Bietigheim
Yara Ten Holte - NED / BV Borussia 09 Dortmund
Sandra Toft - DEN /Györi Audi ETO KC
Best defender
Emilie Arntzen - NOR / CSM Bucuresti
Tatjana Brnovic - MNE / Brest Bretagne Handball
Kelly Dulfer - NED / SG BBM Bietigheim
Beatrice Edwige - FRA / FTC - Rail Cargo Hungaria
Kathrine Heindahl – DEN / Team Esbjerg
Carin Strömberg - SWE / Neptunes de Nantes
Zsuzsanna Tomori - HUN / FTC-Rail Cargo Hungaria