EHF European League
SUMMARY: Nantes and Siófok advance to EHF Finals Women
After recording away victories last weekend in the first leg matches of the EHF European League Women quarter-finals, CS Minaur Bara Mare, Herning-Ikast and Nantes Atlantique all earned victories in the return legs at home to secure their places at the EHF Finals Women.
In two matches played in three days in Hungary, Siófok KC, the 2018/19 Women's EHF Cup winners, defeated Astrakhanochka in both legs.  
on Sunday, Nantes Atlantique beat Zvezda 30:28 and Siófok defeat Astrakhanochka 29:28 in a tight match 
all four first leg winners record victories again in the second legs
Minaur Baia Mare, Herning-Ikast, Nantes Atlantique and Siófok will play at the EHF Finals Women on 8/9 May
18:50
We close the blog with an overview of the four teams that have reached the EHF Finals Women.
In May, there will be extensive coverage of the EHF Finals Women on eurohandball.com and across our social media platforms. Until then, however, good night. 
18:45
Here is a reminder of the results from the second leg matches. 
18:35
Nantes Atlantique and Siófok's celebrations are to the forefront of this evening's gallery. More photos will be available on our Facebook and Instagram pages shortly. 











18:10
The four teams that have reached the EHF Finals Women are now confirmed: CS Minaur Baia Mare, Herning-Ikast Handbold, Nantes Atlantique Handball and Siófok KC. The obvious question to ask ahead of any tournament is 'who will be the favourites?'
Siófok KC won the most recent completed European competition at this level, the 2018/19 Women's EHF Cup, and regardless of any doubts about their squad after some departures, they have swept aside the opposition that they have faced since drawing 28:28 against Kuban on 9 January.
Prior to the group stage, Herning-Ikast had ambitions to win their first European trophy since the 2014/15 Cup Winners' Cup. If Helene Fauske and Stine Skogrand, their pivotal Norwegian back players, are in top form when the EHF Finals Women take place on 8 and 9 May, then the Danish club can be more than hopeful that they will break their European drought.
CS Minaur Baia Mare and Nantes Atlantique Handball complete the quartet. For Nantes Atlantique, the accomplishment of reaching EHF Finals might be more of a surprise than for Baia Mare, where expectations were certainly high before the group phase commenced. If either side are thought to be underdogs, as history has shown in other knockout events, that might be to their benefit. 

17:40
And here is confirmation that Siófok have beaten Astrakhanochka 61:54 on aggregate – plus the top scorers from the second leg.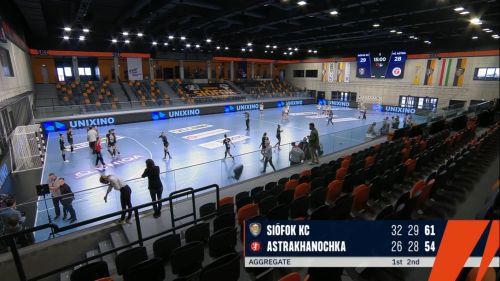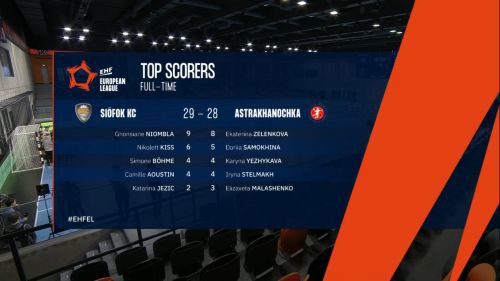 17:34
Indeed, as the full-time result shows, Siófok timed their strong finish to the second half perfectly. Accurate shooting, led by Gnonsiane Niombla and Nikoletta Kiss, and a solid performance in goal from Melinda Szikora helped the Hungarian side become the fourth first leg winners to follow up in the second leg.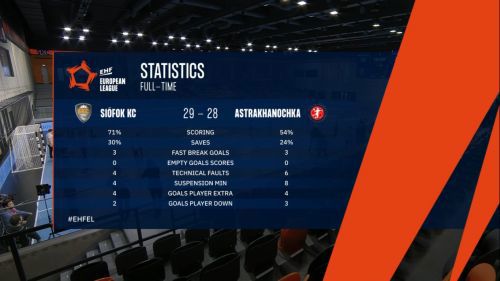 17:25
Well, Astrakhanochka's lead had a short life. Siófok have seemingly timed their final flourish perfectly. The Hungarian side are two goals up (29:27) in the second leg with two minutes left.
17:21
Astrakhanochka have equalised twice – at 25:25 and 26:26 – and now they ahead, 27:26, for the first time in the second half.
Meanwhile, check out Samokhina's glorious spin shot for the Russian side.
17:17
With eight minutes left, Siófok's lead in the second leg is as narrow as it can be: 25:24. However, their position on aggregate is much safer as they lead by seven goals. 
17:08
We could not say that it has been a game for the goalkeepers. On the other hand, Melinda Szikora's made 10 saves at a healthy 33 per cent for Siófok.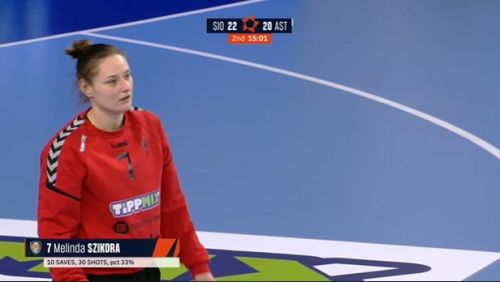 17:05
Samokhina just about kept control of the ball on a fast break to score her fifth goal of the game, reducing Astrakhanochka's deficit in the second leg to one goal, 18:17, but Gnonsiane Niombla (now seven goals) has added three more to her tally and Siófok lead 22:20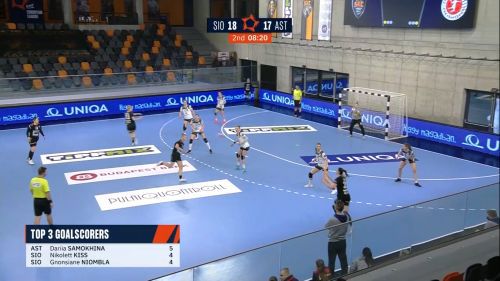 16:52
It is a team game and Siófok's teamwork functioned well in the first half against Astrakhanochka.
16:45
The half-time break between Siófok and Astrakhanochka is the perfect opportunity to read Sergey Nikolaev's review of Nantes Atlantique's win in the second leg against Zvezda. 

16:40
HALF-TIME: Siófok KC 16:14 Astrakhanochka
For the second time in three days, Siófok lead Astrakhanochka by two goals at half-time. The Hungarian's side scoring efficiency in the first half was vastly superior to the Russian side's.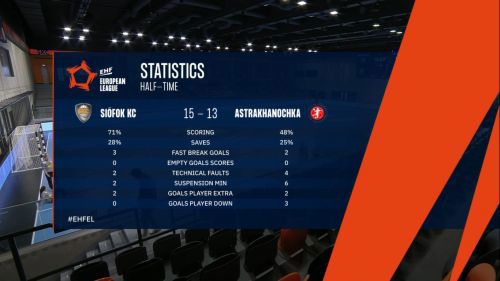 16:34
As the first half draws to a close, Astrakhanochka have made a change in goal. Evelina Anoshkina has replaced Anastasiia Riabtseva, who made four saves from 17 shots.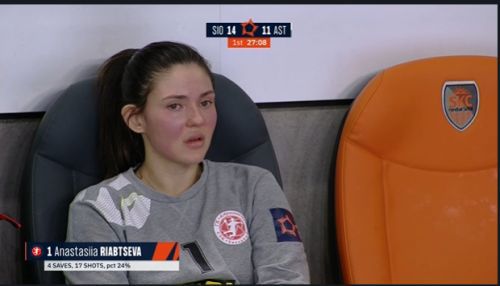 16:24
Dariia Samokhina has taken plenty of penalties over the years for Russia's national team, and she was successful with her first attempt from the seven-metre line this afternoon for Astrakhanochka. Samokhina's scored three goals in 20 minutes for Astrakhanochka, but Siófok remain ahead (10:9) – albeit by a reduced margin as they call a timeout. 
16:13
Siófok are impressing in the early stages against Astrakhanochka. Although Zsuzsanna Tomori is not on the scoresheet, the veteran back blocked a shot and made a steal on the same attack. From the steal, Gnonsiane Niombla converted a fast break chance, giving the Hungarian side a 6:3 lead and they added one to that before Astrakhanochka called a timeout.
16:02
Attention now turns to whether or not Siófok can make it four from four for the teams that won in the first legs.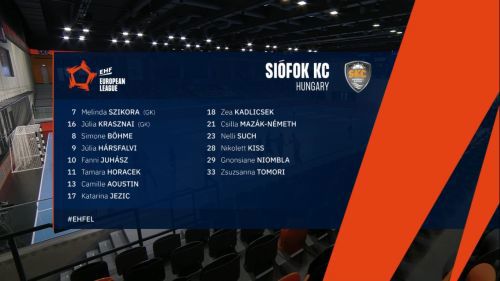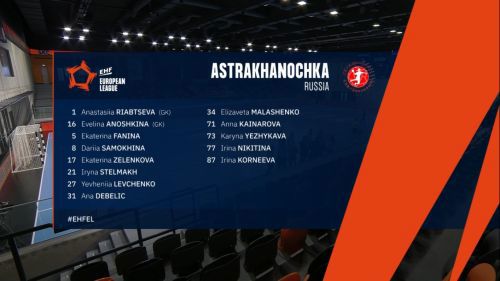 15:45
With six goals, Bruna Almeida De Paula top-scored for Nantes Atlantique. As stylish as some were – like this one – she led her team at a critical stage in the second half when the tie was still in the balance. 
15:40
While Zvezda have been eliminated, Natalia Nikitina's distinctive shot made a big impression on the EHF European League Women this season. Enjoy one of her goals from today's match!
15:36
Joy for Nantes Atlantique as they book their place at the EHF Finals Women. A two-goal win in the second leg against Zvezda adds to their four-goal victory from the first leg.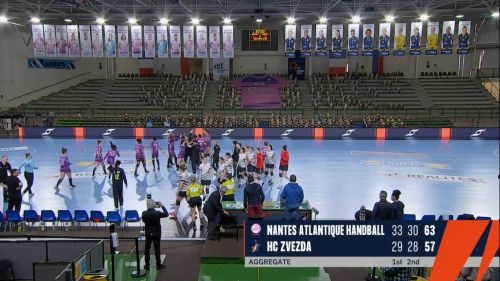 15:25
Whether they have been finished by Blandine Dancette or Orlane Ahanda, fast breaks from the right-hand side of the court have been particularly helpful for Nantes Atlantique in the second half.
15:22
Zvezda's 25:23 lead has vanished. A 4:0 run for Nantes Atlantique, which was ended by Alina Triobchuk, means that the French side are in front 27:26 as they call a timeout with seven minutes remaining.
15:10
Natalia Nikitina scores her fourth of the match for Zvezda to restore parity in the match and then quickly follows up with her fifth to put the Russian side ahead 22:21. Having already had 11 shots, Nikitina's efficiency has been somewhat expensive.  
14:56
While the second half has begun and Nantes Atlantique remain two goals ahead (16:14), enjoy Adriana Placzek's big moment from the closing stages of the first half.

14:44
HALF-TIME: Nantes Atlantique Handball 15:13 HC Zvezda
A scoreless run lasting more than six minutes for Zvezda has enabled Nantes Atlantique to establish a 15:13 lead in the second leg. With Nantes now holding a six-goal lead on aggregate, Zvzeda need something close to a handball miracle in the second half.

14:33
As half-time approaches, Nantes Atlantique goalkeeper Adriana Placzek has made seven saves from 17 shots. Placzek's last save from a wing shot was probably her most impressive of the half. 
14:27
With Zvezda narrowly ahead 11:10, Nantes Atlantique opted to call a timeout. Camille Ayglon Saurina was the first player for the French side to score after the timeout – adding to her eye-catching effort from earlier in the half.

14:12
Zvezda had two shots denied by Adriana Placzek, plus two more shots hit the goalframe in the early stages, but Anna Nikolaeva's efforts from the seven-metre line have brought them back level (4:4).
14:02
The whistle has been blown and we are underway in Nantes. In case you missed the line-ups for both teams, here they are.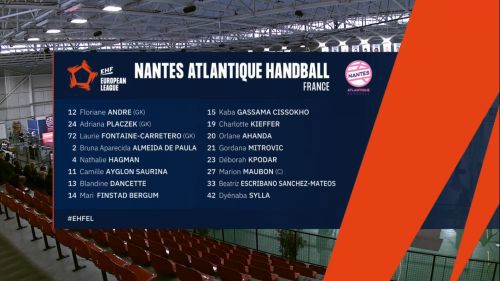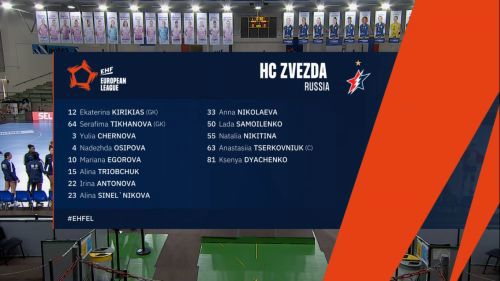 13:55
Prior to throw-off, the EHFTV spotlight was placed on Nantes Atlantique's Déborah Kpodar and Zvezda's Natalia Nikitina. Both left backs have scored more than 30 goals in this season's competition and had strong performances in the first leg.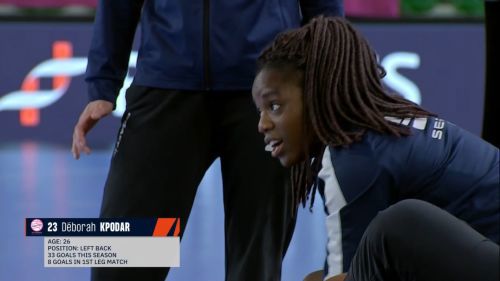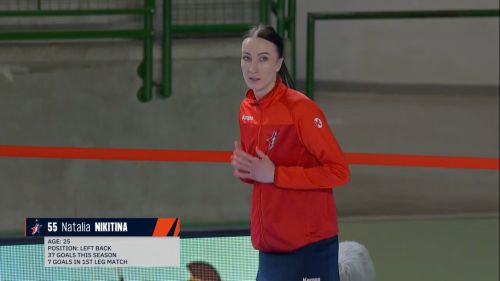 13:40
Nantes Atlantique's Twitter account tweeted a happy birthday message this morning for Dyénaba Sylla. The French side's left wing turned 24 today. 
13:20
Earlier in the week, EHF journalist Danijela Lemaić caught up with Astrakhanochka line player Ana Debelic. 
On Friday, Astrakhanochka lost the first leg against Siófok. But if you have not read the interview, it is worth doing so to find out more Debelic's aspirations and expectations at the Russian club.
Sunday 4 April
13:00
Good afternoon and welcome to our live blog coverage of Sunday's two second leg quarter-final matches, both of which will feature Russian clubs trying to overturn first leg deficits.
14:00 CEST – Nantes Atlantique vs Zvezda
16:00 CEST – Siófok KC vs Astrakhanochka
After their 33:29 win in the first leg in Russia, Nantes Atlantique will start the second leg at home against Zvezda as clear favourites. Nantes Atlantique won both of their matches played at home in the group phase and also won their only home match in qualification, so Zvezda have a tough task ahead of them this afternoon.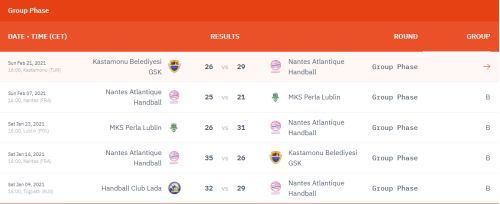 16:30
Minaur Baia Mare and Herning-Ikast took the final step on the road to the EHF Finals. Who will join them on Sunday? Rejoin us at 13:00 CEST for build-up prior to Nantes Atlantique vs Zvezda and Siófok vs Astrakhanochka.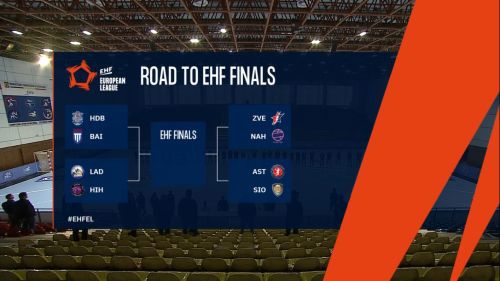 16:11
Check out the best photos from Saturday's two EHF European League Women quarter-final matches below. More will be available on our Facebook and Instagram pages. 













15:50
Sergey Nikolaev's review of Herning-Ikast's win in the second leg against Lada is now online. Can you guess who the crucial player was for the Danish side? Click on the review to find out. 
15:36
Herning-Ikast overcome Lada's resilient and tenacious display to record a three-goal win in the second leg. With wins in both legs, the Danish side advance to the EHF Finals Women with a five-goal win on aggregate – 59:54.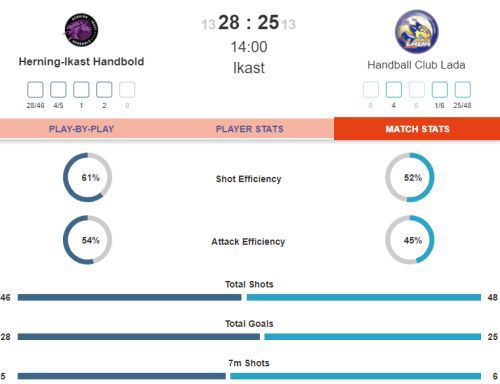 15:27
Lada's penalty nightmare continues as Jessica Ryde stops another for Herning-Ikast. Lada have converted just one from six from the seven-metre line. In a tight match, it is fair to assume that it has made the difference.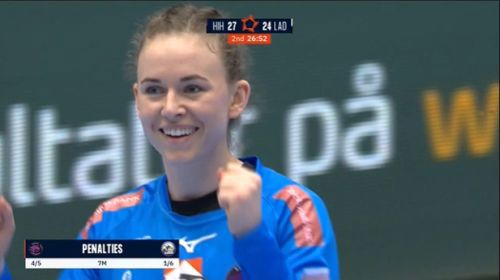 15:18
Stine Skogrand scores a relatively easy breakthrough chance and Herning-Ikast lead 26:23. This time... it would appear that Lada's fate is sealed.
15:15
With just under 10 minutes remaining, after a goal-for-goal run, the score is tied at 23:23. Lada have to win by at least two goals but given the result of the first leg, it will almost certainly have to be by three goals. 
15:09
No sooner than you think that Herning-Ikast have asserted their authority on the match, Lada respond. For the second time in the half, Lada have equalised after trailing by three goals.  
15:01
Herning-Ikast scored three unanswered goals at the start of the second half to take a 16:13 lead, but Lada have hit back with a 3:0 run to level at 16:16. Are there signs of some nerves from both teams? Possibly!

14:45
Goals and assists: Helene Fauske provided both for Herning-Ikast in the first half. However, one assist was particularly eye-catching! 

14:41
HALF-TIME: Herning-Ikast Handbold 13:13 Handball Club Lada
Line Hougaard's brilliant spin effort with approximately 30 seconds left in the half for Herning-Ikast ensures that the two teams are level at the break. 
Lada must win the second half by at least two goals to progress to the EHF Finals Women, but they will need to stop Helene Fauske from adding too many more to her seven-goal total!


14:33
Lada had missed their first three penalties of the match. For Lada's fourth attempt from the seven-metre line, Alena Blokhina fired her shot past Sabine Englert into the bottom left-hand corner. With three minutes to go in the half, the score is 11:11.
14:26
With three goals, Olga Shcherbak is on top of Lada's scoring chart after 23 minutes. Take a look at her powerful burst through the defence (plus the shot!) from earlier in the half.
14:18
A five-minute goal drought for Herning-Ikast is broken through Helene Fauske converting a penalty. 
14:14
With three saves to one after 11 minutes, Lada's Daria Dereven is ahead in the goalkeeping battle against Herning Ikast's Sabine Englert – although there is obviously a long way to go in this match!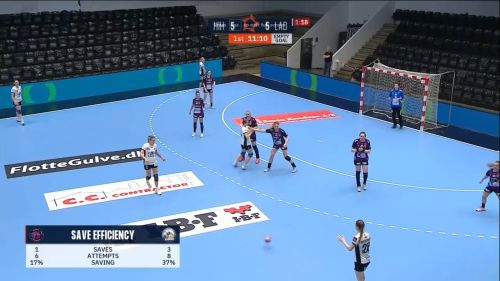 14:06
Whenever Herning-Ikast play in the EHF European League Women, a lot of eyes – including those of their opponents – will be on Helene Fauske. Fauske scored with her first shot of the game from nine metres, had her second opportunity saved by Lada goalkeeper Daria Dereven and has just broken through to make it two from three.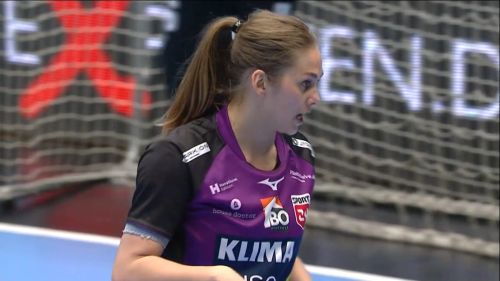 14:02
Here are the line-ups for Herning Ikast's second leg against Lada. 


13:50
Next up for us is the second leg between Herning-Ikast Handbold and HC Lada. Whilst the Danish club obviously start favourites after their 31:29 victory in the first leg, they will probably want to build on their lead in order to avoid any difficult moments in the closing stages. As anyone who follows handball knows, a two-goal lead can be wiped out in under a minute.
Meanwhile, Adrian Costeiu's review of Minaur Baia Mare's win in the second leg against Dunarea Braila is online and available for you to read. 
13:36
As we say goodbye to Dunarea Braila from this season's EHF European League Women, check out Marina Dmitrovic's spin move that may also leave you thinking about an Australian pop singer who performed at the closing ceremony of the 2015 IHF Men's World Championships in Qatar.

13:28
Celebrations have commenced for Minaur Baia Mare, who have defeated Dunarea Braila 27:25 in the second leg to complete a 58:49 aggregate victory over their Romanian counterparts. We will see Minaur Baia Mare at the EHF Finals Women!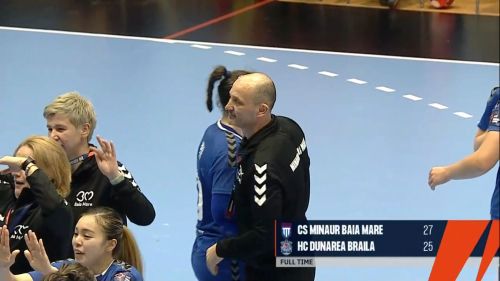 13:16
And here is Jovana Kovacevic's in-flight finish for Minaur Baia Mare from earlier in the half. Kovacevic's shooting percentage was low in the first half, but she has stepped up a gear in the second period.
13:11
With just over 12 minutes to go, Dunarea Braila have called another timeout. In truth, though, it is looking as though the task is now beyond them as they trail 23:20 in the second leg and by 10 goals on aggregate. 
13:05
If Jovana Kovacevic's delightful in-flight finish to give Baia Mare a 21:19 lead is anything to go by, the hosts are feeling more relaxed as the likelihood of them reaching the EHF Finals Women increases.   
12:59
Jelena Lavko and Jovana Kovacevic have again been registering on the scoresheet for Minaur Baia Mare. From Baia Mare's integral pair, it was Lavko who led the way for her side in the first half – both through scoring directly and providing assists like this one below. 

12:48
It is probably unsurprising given the closeness of the half-time scoreline, but the shooting and attack efficiencies for Baia Mare and Dunarea Braila were very similar in the first half.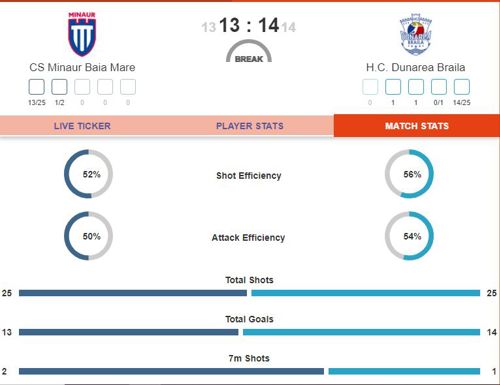 12:38
What might be considered an underwhelming first half reignited in the last five five minutes as Dunarea Braila took a 14:11 lead, only for Baia Mare to come within one at the break. If the pass had connected on a potential fast break with five seconds to go in the half, Baia Mare could have had the opportunity to draw level in the second leg, but they still lead by six goals on aggregate. 

12:29
With three goals so far, Maria Kanaval is Dunarea Braila's joint top scorer in the first half – and her tally included this long-range effort that helped her side establish an early lead.  
12:23
Baia Mare's defensive work has been extending the length of some of Dunarea Braila's attacks but the visitors have their noses in front, 10:9, after 21 minutes.   
12:10
Dunarea Braila made a sharp start, taking a 4:1 lead, but a quickfire 3:0 run from Baia Mare levelled the score at 4:4. With exactly 10 minutes gone and the score level at 5:5, Dunarea Braila have called a timeout.
12:00
We are underway and here are the line-ups for both teams.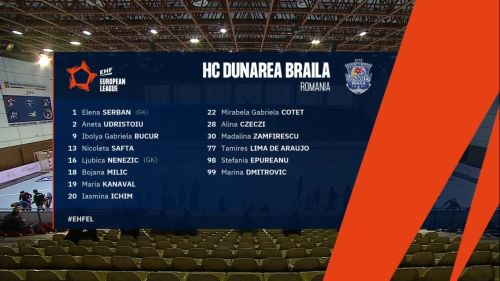 11:45
Minaur Baia Mare hold a sizeable seven-goal lead against Dunarea Braila after last week's first leg. With this clash being between two Romanian sides, we also have their domestic head-to-head record available to use as a guide. As was mentioned in the preview, Dunarea Braila have not beaten Baia Mare in any competition eight years. While that period includes Baia Mare's fall from the top of Romanian handball and their subsequent rebirth, Dunarea Braila certainly have a huge task ahead of them today. 
Saturday 3 April
11:15
Good morning and welcome to coverage of the second leg quarter-final matches from the EHF European League Women! With CS Minaur Baia Mare vs H.C Dunarea Braila set to throw-off at 12:00 CEST, we have a relatively early start to proceedings this Saturday. 
As ever, the preview is the best place to get up to date ahead of the action getting underway.