SUMMARY: AEK and Kadetten enjoy final-second drama
round 9 of the EHF European League Men 2021/22 group phase
at stake are still four open spots in the Last 16, as one team advancing from group C and three teams from group D are yet to be confirmed
GOG and AEK claim dramatic late wins, Cocks claim first point of the group phase
Berlin survive Irun comeback, while Schaffhausen grab vital point in France
check the group standings 
23:01
We leave you with some of the best images from tonight and our gratitude for joining our coverage of tonight's European League fun.
The action continues with the EHF Champions League and Women's EHF EURO qualifiers in the coming days before we return with the conclusion of the group phase next Tuesday. Good night!








22:49
Over in group C, victory for La Rioja over Nexe means they join Gorenje Velenje on 7 points in a tie for fourth place.
The Spanish side face PAUC in the final round, while Velenje face Sävehof. Both sides are away and if they match each other's results, La Rioja will progress to the Last 16 with their better head to head record.
22:35
The thrilling results tonight ensure that you do not want to miss group D's matches next week. Only four points separate the top five teams and anything can happen in the hunt for places in the Last 16.
Nimes are top with 12 points, Pelister on 10, Kadetten and Sporting on 9 and AEK just behind them on 8. How exciting!
22:24 - FULL-TIME
Another dramatic finale involving Kadetten, this time with a positive spin!
Nimes go into the final minute with a two-goal lead but goals from Joan Canellas and Lukas Herburger in the final 32 seconds give the Swiss side an unlikely draw and a vital point for their hopes of reaching the Last 16!
USAM Nimes Gard 33:33 Kadetten Schaffhausen
Orlen Wisla Plock 33:29 TATRAN Presov
BM Logroño La Rioja 31:30 RK Nexe
Bidasoa Irun 16:20 Füchse Berlin
22:13
If Füchse hold on for the win tonight, they'll have Lasse Andersson to thank. Eight goals so far for the big Dane. On nights like this, you wonder why he only plays in defence for Denmark.
22:11
While Plock are on the verge of victory over Presov, nothing else is decided! Just a single goal between the teams in the other three matches.
22:06
Pilipovic has made an astonishing 14 saves so far tonight and his side are level with Nimes with just eight minutes remaining... 
21:59
Berlin have led throughout this contest with Irun but the hosts are hanging on long enough to make this awkward. Seven goals from Inaki Cavero has helped propel the Spanish side within one goal, 28:27, and a nervy final quarter is afoot.

21:46
As the second half progresses, not much is changing and we still have three matches which look set to go to the wire!
The transformation Presov have shown in a week is most impressive - Oliver Rabek is a man on a mission with six goals as his side draw level with Plock, 20:20, with 40 minutes on the clock.
21:35
Nimes showing glimpses of the play that has seen them go top of group D but they need to produce more in the second half. Mohamad Sanad leads the scoring with four goals but Schaffhausen are displaying a more-rounded team performance so far.
21:24
Lasse Andersson, Jacob Holm and Milos Vujovic doing the damage for Füchse tonight with four goals each as they hold the only significant lead in our late games this evening. Here's where we stand at the break.
USAM Nimes Gard 14:16 Kadetten Schaffhausen
Orlen Wisla Plock 15:16 TATRAN Presov
BM Logroño La Rioja 14:15 RK Nexe
Bidasoa Irun 16:20 Füchse Berlin
21:16
Presov were hammered 29:15 by Plock just last week but are in no mood to suffer a similar fate this evening.
24 minutes played and they trail 13:12.
21:11
La Rioja and RK Nexe are both in need of points in the Last 16 race but there is nothing to choose between them so far. The evergreen wing Fahrudin Melic is running the show so far with six goals for Nexe - 10:10 after 23 minutes.
21:03
Kadetten Schaffhausen know they must scrap to progress from group D and it shows. They are taking group leaders Nimes to task so far tonight, leading 9:5 after 17 minutes.
20:53
While three of the matches have eased into action, Plock and Presov are not messing about! The visitors Tatran give themselves a 7:4 lead after just 8 minutes of play.
20:43
After all that drama, there are still four matches left to get stuck into and some important clashes in there as well. Here we go with the 20:45 throw-offs!
USAM Nimes Gard vs Kadetten Schaffhausen
Orlen Wisla Plock vs TATRAN Presov
BM Logroño La Rioja vs RK Nexe
Bidasoa Irun vs Füchse Berlin

20:35
Did Petros Boukovinas get a touch on it? Who knows, who cares? The important thing is that this shot stayed out and his 15 saves paved the way for AEK to claim a huge win over Sporting and maintain their late push for the Last 16.
20:25 - FULL-TIME
Drama in Denmark as a raft of suspensions leaves Benfica down to 4 men on court as they go in search of an equaliser against GOG.
Jose Da Silva fires in the equaliser but GOG have 30 seconds in a 6 vs 3 man attack - surely they will score...
Emil Madsen steps up to score, Bergerud makes the final save and the Danish club claim a nail-biting 39:38 victory.
Here are the other results
GOG 39:38 SL Benfica
Grundfos Tatabanya KC 25:21 HC Eurofarm Pelister
SC Magdeburg 31:25 IK Sävehof
Fenix Toulouse Handball 34:27 Pfadi Winterthur
RK Gorenje Velenje 33:32 PAUC Handball
AEK Athens HC 25:24 Sporting CP
Cocks 29:29 TBV Lemgo Lippe
20:13
Cocks grab a point!
And it's their first of the group phase as a last-minute goal by Vitalie Nenita salvages a 29:29 draw with Lemgo. Brilliant result for the Finnish side.
20:05
Carlos Ruesga still proving to be a highlight machine and Sporting need more of that from him - it's 22:22 against AEK with just 9 minutes left to play...
19:59
GOG were moving through the gears in this second half and stormed into a six-goal lead over Benfica. But much like their cross-town rivals, Benfica are not giving up without a fight and have moved back within three goals, 29:26, as we head into the final quarter.
19:51
The first half in Tatabanya was all about the goalkeepers and defence but things are heating up in front of goal in the second period. The home side hold an 18:17 lead in a match they must win to keep their Last 16 hopes alive.
19:44
Sporting have come roaring back into their match against AEK with a five-goal turnaround giving them the lead in Athens!
19:36
Winterthur are certainly playing it cool so far tonight, taking a surprising lead against Toulouse. Can they keep it cool in the second half?
19:24 - HALF-TIME
It's half-time around Europe and one of the biggest surprises is the late 5:1 run for AEK, which sees them take a sizable lead over Sporting into the break.
The goals just won't stop flowing in Denmark and Slovenia, where we have GOG and Velenje with narrow leads heading into the dressing rooms.
GOG 20:18 SL Benfica
Grundfos Tatabanya KC 11:11 HC Eurofarm Pelister
SC Magdeburg 17:13 IK Sävehof
Fenix Toulouse Handball 14:16 Pfadi Winterthur
RK Gorenje Velenje 19:18 PAUC Handball
AEK Athens HC 15:11 Sporting CP
Cocks 12:15 TBV Lemgo Lippe
19:15
He's not just providing assists, Stipe Mandalinic has also scored 6 of Pelister's 10 goals so far in a tense match with Tatabanya. Both teams could do with the win but it's all square as we approach half-time.
19:09
Saves like this have been few and far between in Denmark as GOG and Benfica are level at 11:11 after 19 minutes.
In the other highlight match, Magdeburg have enjoyed a purple patch and now lead Sävehof 14:10.
19:02
All games are looking pretty even so far, even Cocks are putting up a strong fight so far as they strive to avoid being the only team not to earn a point - it's 9:8 against Lemgo with 17 minutes played.
18:52
Both teams going out hard in the GOG vs Benfica match with the home side leading 4:3, while Sävehof have done well to control the pace against Magdeburg and lead 4:2.

18:36
Another top clash in the upcoming throw-offs is SC Magdeburg vs IK Sävehof, the two top dogs in group C. Sävehof have been one of the surprise packages of the season so far but this will be their toughest test yet, facing a Magdeburg side who have lost just one game all season.
18:25
Simon Pytlick spoke to us about the tough schedule GOG have endured recently in the article below but their squad is looking a lot fuller tonight for a big match at the top of group B against Benfica.
The young Danish side brushed their opponents aside when they met in the reverse fixture but something tells me this clash will be a lot tighter.
18:12
Not long to wait before our 18:45 CET throw-offs and we have seven matches to get us started.
GOG vs SL Benfica
Grundfos Tatabanya KC vs HC Eurofarm Pelister
SC Magdeburg vs IK Sävehof
Fenix Toulouse Handball vs Pfadi Winterthur
RK Gorenje Velenje vs PAUC Handball
AEK Athens HC vs Sporting CP
Cocks vs TBV Lemgo Lippe
17:00
Of course, round 9 is about much more than 'just' the race to the Last 16. Teams that advance want to rank as high as possible in their respective groups in order to get a more favourable knockout draw.
So, who are the main candidates to win the four groups?
In group A, Plock and Füchse are level on 14 points; in B, GOG and Benfica are tied on 13 points; in C, titleholders Magdeburg (15) are three points clear of Sävehof; and in D, Nimes (11) are just one above Pelister and two above Sporting.
So much to play for tonight and next week!
16:46
Talk of the town tonight are groups C and D, as that is where our remaining Last 16 participants will come from.
In group C, La Rioja can secure their place in the knockout phase with a win over Nexe, though at the same time rivals Velenje must lose to last-ranked PAUC for that scenario to become reality. Our prediction: this group is going down to the wire and we will only learn next week who is advancing to the Last 16.
In group D, only leaders Nimes are through at this point, but Sporting, Pelister, and Kadetten could lock up the top four tonight. In that case, Athens and Tatabánya would be out... but we are sure in Greece and Hungary they have other thoughts about this.
16:36
With just over two hours left until the first bunch of matches throw off, here is the complete overview of all matches starting at 18:45 and 20:45 CET, respectively: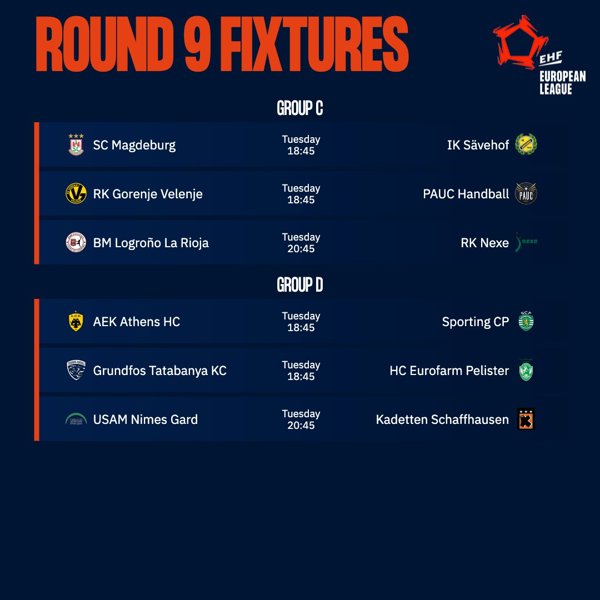 16:30
Good afternoon and welcome to your weekly night of EHF European League fun here on eurohandball.com!
The group phase enters round 9 tonight, which means the teams have only two matches left to improve their ranking or, for those who haven't done so yet, book their ticket to the Last 16.
The round preview brings you up to date as usual: