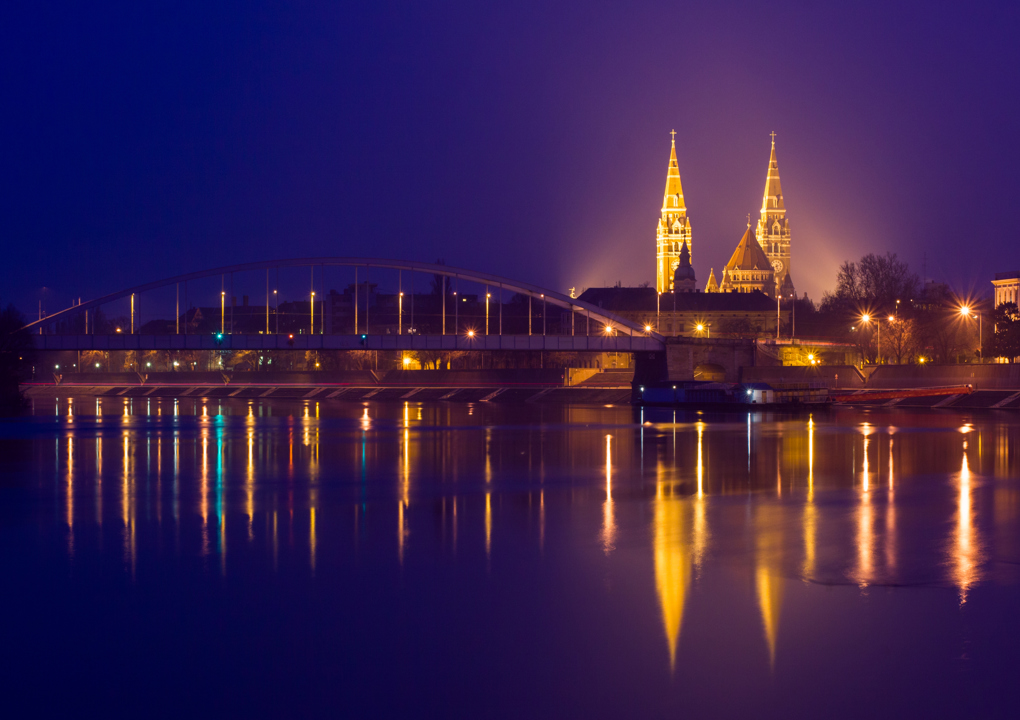 Szeged is the third-largest city of Hungary. It is situated on the south-eastern part of the country, just a few miles from the intersection of Hungary, Romania, and Serbia. The town has been mentioned in records since the 12th century, but still, it became known after the great flood of 1879. At that time, the river Tisza demanded enormous flood basin because of its deregulation, and in 1879 the river destroyed almost all buildings of the town.
Many European big cities assisted in rebuilding the town; then the Grand Boulevard named after the assisting cities, and the radial structure of the town was formed. Meanwhile, the University of Szeged is one of the most distinguished universities in Hungary, its students fill the historical streets of the city.
The most popular sport in the town is handball. The city's team, MOL-PICK Szeged is the 2013-14 EHF Cup-winner. The journey by road from Budapest takes around one and a half hours. The fast InterCity trains make the trip from the capital convenient, whilst the recently inaugurated airport has brought Szeged and its region into closer contact not just with the rest of Hungary but with the world.
It's hard to name the single thing that makes Szeged such an appealing city. Is it the garden-like main square with all the park benches or the abundant streetside-café seating in a pedestrian area that seems to stretch on forever? Maybe it's the interesting architecture of the palaces in the old town. Then again, it could be the year-round cultural performances and lively university-town vibe or the fantastic thermal complex that helps to find those highly needed relaxing moments.
PICK ARENA
Pick Aréna in Szeged, Southern Hungary, will be built on one of the most beautiful sites on the bank of the river Tisza. The arena will be the second-largest multifunctional event hall in Hungary, suitable for organising a wide variety of programmes (sports events, cultural events, concerts, exhibitions, conferences) with the capacity of 10,000 seats.
It will be fully accessible for people with disabilities and in line with EHF regulations. Pick Aréna will be home to MOL-Pick Szeged Handball Club, a regular participant in the EHF Velux Champions' League. The arena area will be surrounded by a mobile, retractable tribune system on all sides, while the freight entrance will enable the Arena to receive trucks. Accessibility shall be ensured by 5+1 (VIP) elevators.
In addition to the sports hall, there will be a 1000- seat training hall in the new building complex alongside a 25-30-person handball academy (a boarding school) and an 800 m2 recreation centre.