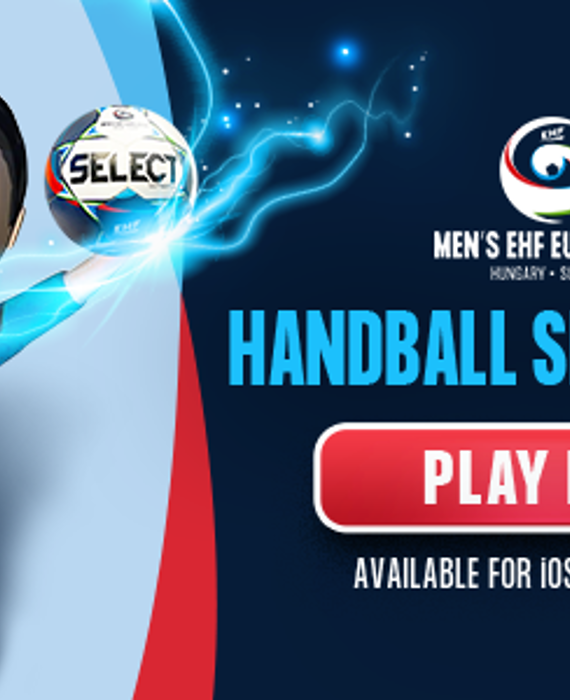 Start playing now!
Play the ultimate Handball Shoot-Out Game for iOS and Android presented by the European Handball Federation. Feel like a player at the EHF European Handball Championship. Listen to the roar of crowd as you step on the court, ready to take your shot and secure the win for your team!
Join the biggest names in handball and discover the sport's newest, most addictive game that can be played anywhere and at any time - while enjoying a coffee, commercial breaks, timeouts or simply to relax at the end of the day.
Choose your player and your team, compete against players from all over the world with the multiplayer mode and climb up the leaderboard.
Look for 'Handball Shoot-out' in the App and Play store or download the game for Android and iOS right HERE.
If you are clicking on this link from a mobile phone, you will be redirected straight to the correct store.






The different modes explained
Single player mode
Choose your favourite team, choose one of the great avatars and start walking towards the penalty line. Play against the clock and score as many goals as you can. Then switch sides, become the goalkeeper and make sure your reflexes are as good as your scoring skills. The better you are, the further you will proceed in the EHF EURO and the more points you will gain on the leaderboard.
Multi-player mode
What's better than challenging your best handball mates and test their skills? Invite your friends to the Handball Shoot-Out Game and play against each other. Once you are done, switch sides and find out who's the better shooter – and who's the better goalie?
Wacky mode
Are you feeling a bit crazy today? There the wacky mode for you. Pass the ball, catch it, spin, shoot – and score. It's cool, it's crazy, it's wacky! And of course, the multiplayer option is available here as well.
So what are you waiting for? Download the game now – and start earning your nation points!
We'll update the leaderboard and post the standings on our social media platforms throughout the course of the tournament.