Debrecen
Debrecen is the second-largest city in Hungary that has even played the role of the capital city in historical periods. Today, it is the capital of the Northern Great Plain region of the country. The "Calvinist Rome" is nowadays most popular for its blossoming culture, superb higher education and bustling international student life. The city, rich in monuments as well as modern buildings, shopping streets, pubs and cafés, attracts a lot of attention for its internationally renowned events, too.
Debrecen is surrounded by a semicircle of woodlands on the eastern side. One of the most well-built resort centres in the area is Lake Vekeri, home to the Campus Festival at the end of July each year. Apart from music programmes, the festival also offers sports events, movie screenings, science and art shows.
In the Great Forest area of Debrecen, also called "the lungs of the city," there is a medicinal thermal bath centre called Aquaticum with indoor swimming pools, a covered Mediterranean spa, medical facilities and special medicinal water for many illnesses.
Debrecen has proven multiple times in the past few years that it is able to host the best athletes in the world in all kinds of sports such as gymnastics, ice hockey, swimming, athletics, skating and last but not least, handball. Women's first division team play in the European Cup and before a full house each time.
FŐNIX Aréna 
Főnix Aréna in Debrecen, Eastern Hungary, is the newly renovated multi-purpose sports arena with a capacity of 6,500.
The arena ground is surrounded by a retractable tribune system on all sides. The building boasts 4+1 elevators, cafeterias and cloakrooms on each level as well as six locker rooms for teams. There are also private changing rooms available for special guests, closed commentator stands, background rooms for TV companies, a large storeroom, a restaurant, offices and meeting rooms on the first floor and 30 VIP boxes, too.
The design of the arena area and its freight entrance make it suitable for receiving trucks, too. Főnix Aréna is connected to the adjacent Imre Hódos Sports Hall through an underground passageway, so that its facilities, in particular its arena section, could also be used for training and warm-ups during large-scale events.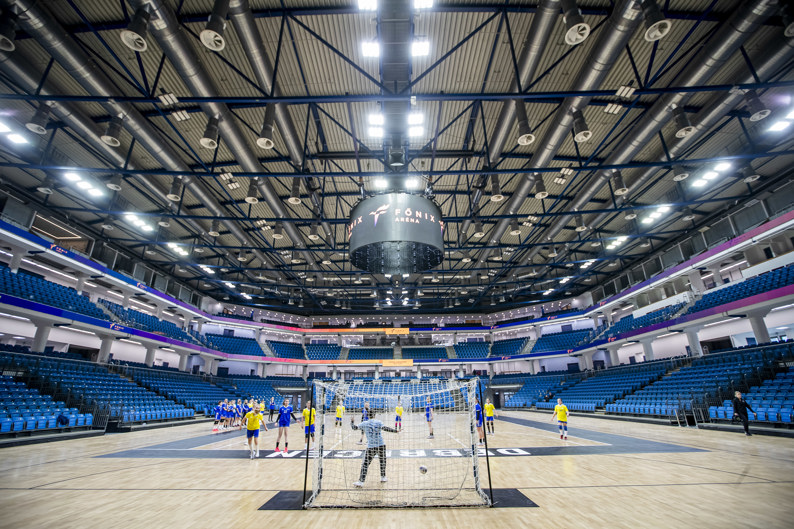 Who plays in Debrecen? 
The Főnix Aréna will host the preliminary round group A with EHF EURO 2020 semi-finalists Slovenia, Olympic and world champions Denmark, North Macedonia and Montenegro. 
Slovenia and North Macedonia will open the EHF EURO 2022 in Debrecen on 13 January 2022 at 18:00 followed by Denmark against Montenegro at 20:30. The matches will continue on 15 and 17 January also at 18:00 and 20:30. All times are CET. 
If you want to secure your seat in the Főnix Aréna, head to tickets.eurohandball.com.