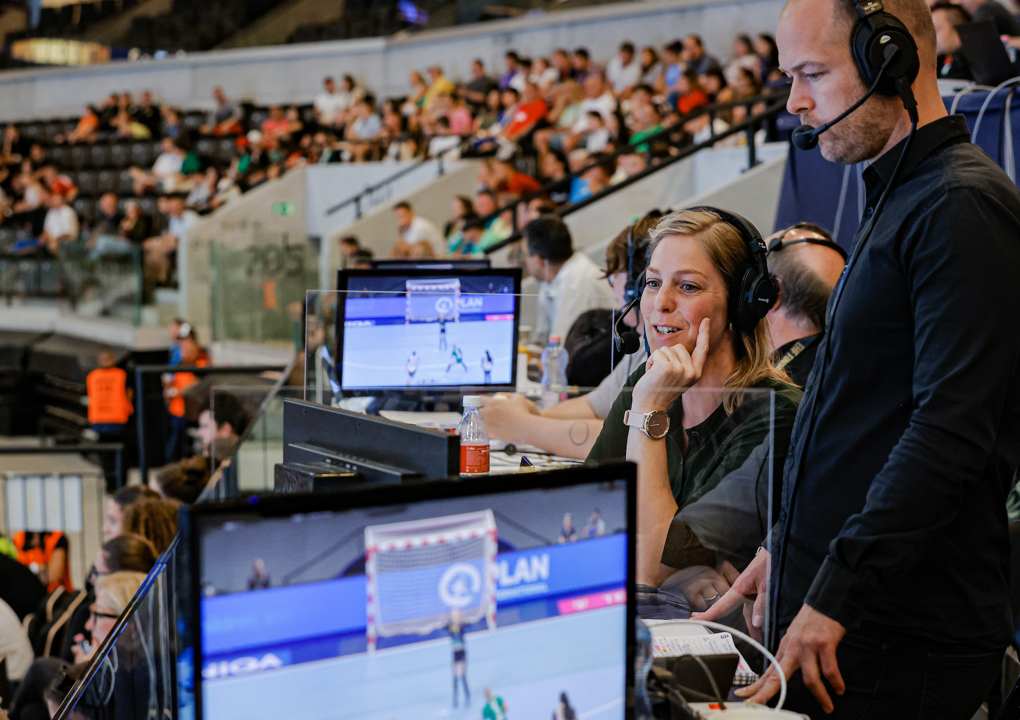 Empower your voice and become the EHF's first female commentator
The European Handball Federation (EHF) has launched its first application solely open for female commentators in a bid to increase the number of women commentating on handball matches.
The successful candidates have the chance to become part of the federation's pool of commentators with the possibility to commentate on matches across the range of EHF competitions starting from the Younger Age Category events in the summer to EHF EURO Qualifiers and consequently even at the EHF EURO itself, the biggest stage European handball has to offer.

The female commentator project is part of a wider approach to empower women in European handball which started at the Women's EHF EURO 2022 in November last year. The application process is launched on the eve of the International Women's Day on 8 March which will be marked by several activations across the EHF's digital channels over the coming days. Its slogan, "Empower your voice" is derived from one of the EHF's brand claims, "Empower to inspire".
The candidates chosen will receive training from EHF commentator Paul Bray and commentary expert Glen Mackay, with workshops focusing on key skills required to call a handball match. Sessions include a general introduction to the sport and handball commentary, how to prepare for a match, and best practice examples.

Bray and Mackay will also provide feedback to the successful candidate on the material submitted in the application process and follow up with her after test events.
During the Women's 19 EHF EURO in Romania (6 to 16 July 2023), successful candidates will commentate the matches while being mentored by Paul Bray and Glen Mackay. After completion of the test event, solo commentary duties are envisioned for the Women's EHF EURO 2024 Qualifiers (autumn 2023).  
The European Handball Federation is looking for a native (or close to native) English-speaking female commentator, based in Europe. The candidates will have to submit a formal application including a cover letter and CV and – if available – a showreel. Following the first selection process, candidates will receive a 10-minute clip of a handball match to commentate on.  
The European Handball Federation underlines that while previous commentating experience is an asset, it is happy to invest in a candidate's education if other key requirements for the position are met.

Applications are open as of 1 March. The deadline to apply is 23 March 2023. Applications can only be submitted via email media@eurohandball.com.