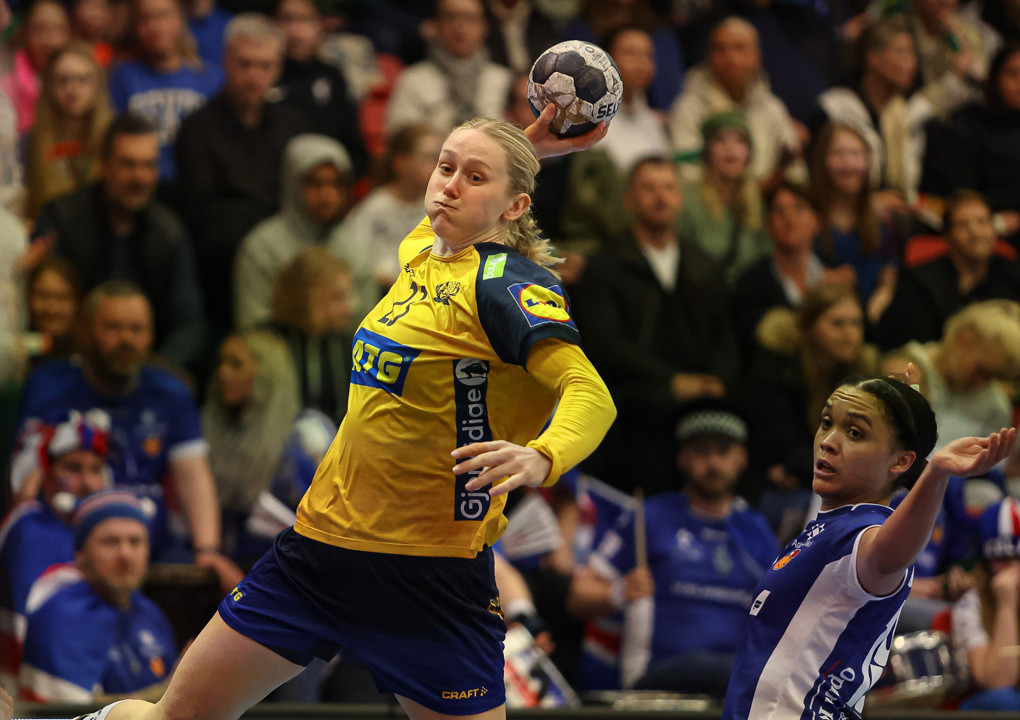 Summary: Sweden, Germany, Hungary and Spain qualify for EHF EURO 2022
Just one qualification round remains for teams to book their places at the Women's EHF EURO 2022, with the final matches in this phase coming up on the weekend. In round 5, Sweden, Germany, Hungary and Spain booked their places at the final tournament. 
THURSDAY
22:30
Here are some pictures as well as reviews of all our matches. Come back Saturday as we will have more action for your pleasure. Good night!



























22:00
Here's an overview of today's results. As mentioned before, Germany, Hungary, and Spain have now qualified due to today's results. How did your team do?
It's official. Hungary, as well as Spain, will be a part of EHF EURO 2022 following a comfortable win over the home team Portugal. Portugal was never able to cut the lead after half-time, and once Hungary had a double-digit lead, their fates were sealed. Csenge Kuczora lead all scorers with seven tallies in total.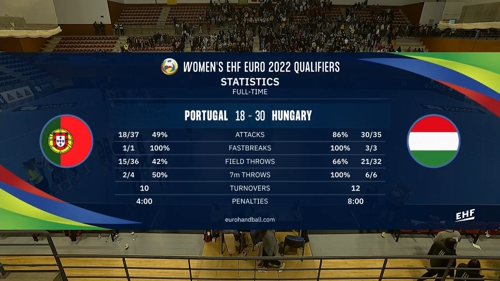 21:05 FULL-TIME
Germany now join the list of the qualified teams after their one-sided victory over the Greek team. Johanna Stockschläder was the leading scorer with six goals, while Maria Chatziparasidou paced Greece with four.
Norway secured their fifth win out of five in the EHF EURO Cup. Helene Fauske scored the most goals for Norway with six; Jovana Sazdovska scored six for the Macedonians who have not earned a single point so far.
20:52
The Norwegians struggled at the beginning of the first half, but as the rest of the world knows, when they're hot no one can stop them. After a Macedonian goal cut the lead to one, Norway caught on fire, going on a seven-goal run that was ended by Kiprijanovska. The score is 24:18 in the final minute.
20:44 HALF-TIME: PORTUGAL 9:14 HUNGARY
After a close eleven minutes where neither team could break away and the score was tied at 4:4, the Hungarians were able to go on a four-goal run. Portugal closed it to 6:8, but that is the closest the gap has been and now the deficit is five. 
20:32
Norway have finally scored in the second half, taking roughly eight minutes to do so. The Macedonians have scored two and they trail by one goal.
20:27
Portugal have had two chances to cut their deficit to one goal, but Kinga Janurik made a save on both occasions. Now the Hungarians have a three-goal lead with nine minutes left in the second half.
20:11 HALF-TIME
Greece 5:19 Germany
North Macedonia 12:14 Norway
Heavy underdogs Greece never really had a chance to be competitive. The Germans have controlled the match from the very beginning and look well on their way to qualifying for this year's EUROs.
North Macedonia have kept it a close game. It will be interesting to see if they can keep up with the defending champions in the second half.
20:06
North Macedonia trail Norway by two; a failed seven-metre by Ristovska would have cut the lead to one, but a double save by Marie Davidsen prevented her from doing so.
19:46
Helene Fauske has given the Macedonians a lot of trouble, scoring five of Norway's nine goals so far. The Norwegians lead 9:5 midway in the first half.
19:42
The German goalkeeper Isabell Roch has come up strong a few times already in today's match. The score is 8:2 in the Germans' favor with twenty minutes left to go.
19:30
We're underway! Keep in mind the option to watch multiple games at once on EHFTV.

19:20
While we wait for the Greece-Germany and North Macedonia-Norway matches to start in ten minutes, check out the celebration scene of Montenegro after their win.
Montenegro improved vastly in the second half, shaving turnovers while converting shots, unlike in the first half when numerous attempts hit the posts. Ana Gros led all players with ten goals, while Jovanka Radicevic lead Montenegro with nine. Slovenia will want revenge, but it will be away from friendly confines as the rematch will take place Sunday in Podgorica.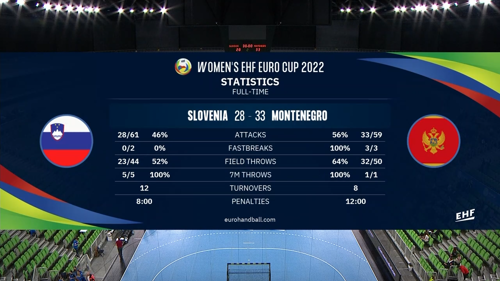 18:49 
Coach Popovic calls timeout so her team does not lose focus in the next seven minutes. 
And it works. After a fast-break goal they now have a four-goal lead, forcing Adzic to have a timeout of his own.
18:43
The timeout and change in keeper have had little effect for Slovenia. Montenegro have been able to maintain their efficiency on offence and now have a three-goal lead with ten minutes remaining.
18:35
Dragan Adzic calls timeout as his Slovenian side sputters on offence and Montenegro gain a two-goal lead for the first time. 19:17 Montenegro with twenty minutes left.
18:28 
It's a cleaner half so far. Montenegro even managed to take a lead before losing it seconds later and having a player sent off. 16:16 with seven minutes played.
18:10 HALF-TIME SLOVENIA 12:11 MONTENEGRO
A seven-metre converted by Gros leads to a hectic last 15 seconds where goalkeepers on both ends come through with fantastic saves.
The first half saw quite a few technical faults and turnovers plus a lot of shots hitting the woodwork. Will the second half buck the trend or we will see more of the same?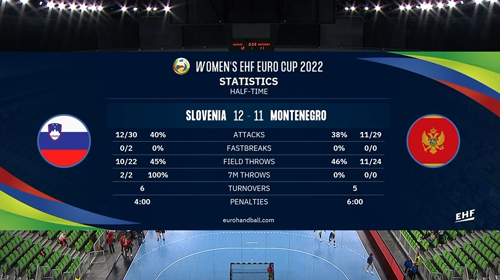 18:00
Goalie Batinovic saves a ball off the line and throws it directly into the Slovenian goal! It's a tied game once again. 10:10
17:49
Taking advantage of turnovers and poor shooting, Montenegro manage to tie the game, but Omoregie restores her team's lead. Slovenia 9:8 with roughly 13 minutes to go.
17:41
Slovenia fail to take advantage of a two-minute suspension and lose their early two-goal lead; however, Ana Gros manages to score with a well-placed jump shot and Maysar scores from the left wing. 4:2 Slovenia with nine minutes gone.
17:20
We're minutes away from the start of the day's matches. First on the agenda is the EHF Euro Cup match between Slovenia and Montenegro. It will be a battle for second place as both teams managed to beat North Macedonia in both matches, but also failed to get a result against Norway. Having secured the title already, Norway are giving youngsters opportunities to gain experience at the top level.
Greece will have a tough task facing Germany, who defeated the Greeks 36:10 in the reverse fixture, in Almere. Germany would qualify with a win. In the day's final match, Hungary will hope to book their place with a win over Portugal, a team they defeated 34:24 in October 2021.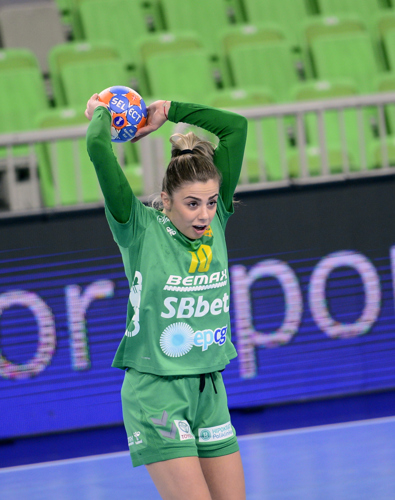 Wednesday
23:32
And thus, we bring the Live Blog for the evening to a close. I will leave you a full overview of all of tonight's results and we are back tomorrow evening for some more action, so join us then! 
You can find reviews of each game just above in the bullet points or on eurohandball.com 


23:11
RESULT: Iceland 23:29 Sweden 
Sweden book their spot at the EHF EURO 2022 with this win tonight over Iceland. Roberts, Hagman amd Hansson all with five goals gives you a feeling for the nice spread of goals from across the team. In the end it was too much firepower from the Swedes who were asking the Icelandic attack some very tough questions with their defensive set up.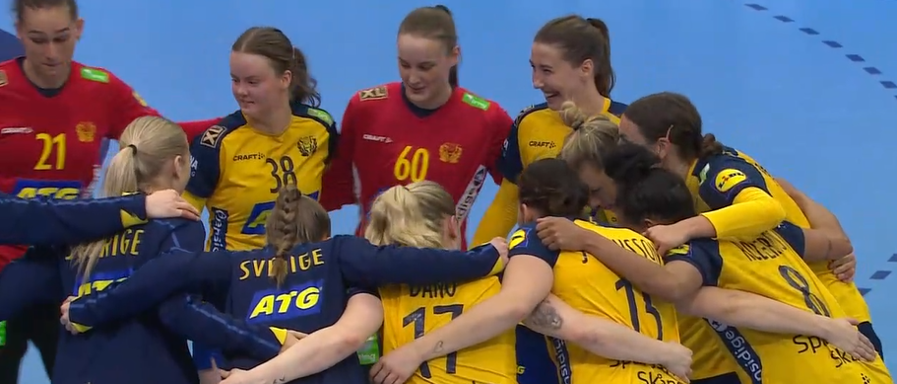 23:07
Iceland are being made work very hard in attack with Sandra Erlingsdottir having a good break through one vs one but that's it, if it's not a moment of individual brilliance, it is looking very tough from set plays. Whereas Sweden are finding huge gaps now in the Icelandic defence. First Blohm and then Johansson finding themselves in loads of space. Iceland 22:29 Sweden.
23:04
Iceland really are not giving up but Sweden class is really starting to shine through. It has gotten visibly tougher for Iceland past the 40 minute mark with some errors and poor decision making starting to creep in. But the home crowd the players are giving it 100% still. Iceland 20:26 Sweden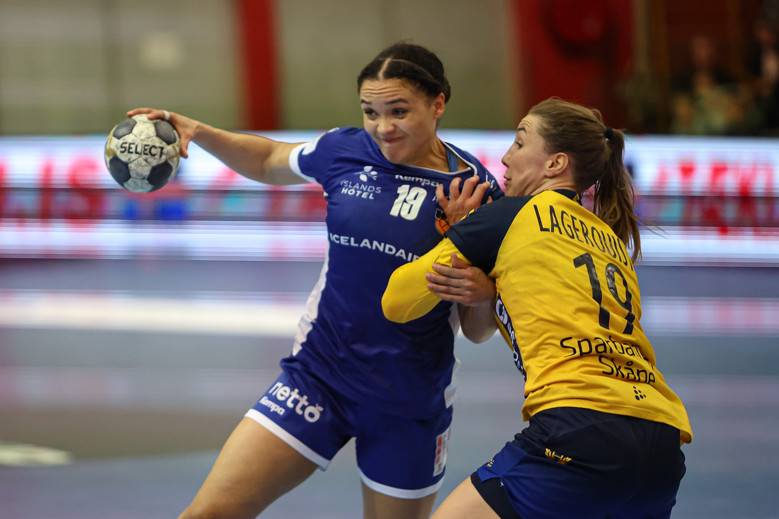 22:20
HALF-TIME: Iceland 12:17 Sweden 
Rut Jonsdottir has been leading the charge for Iceland with her five goals while it is Jenny Karlsson with her four who has been best in front of goal. Iceland are doing well to keep within touching distance, but Vipers keeper Eriksson is a pain in the side for the hosts with her 40% saving rate. 

Will we see a masterstroke from Iceland at the start of the second half or will Sweden put their foot down, join us on EHFTV.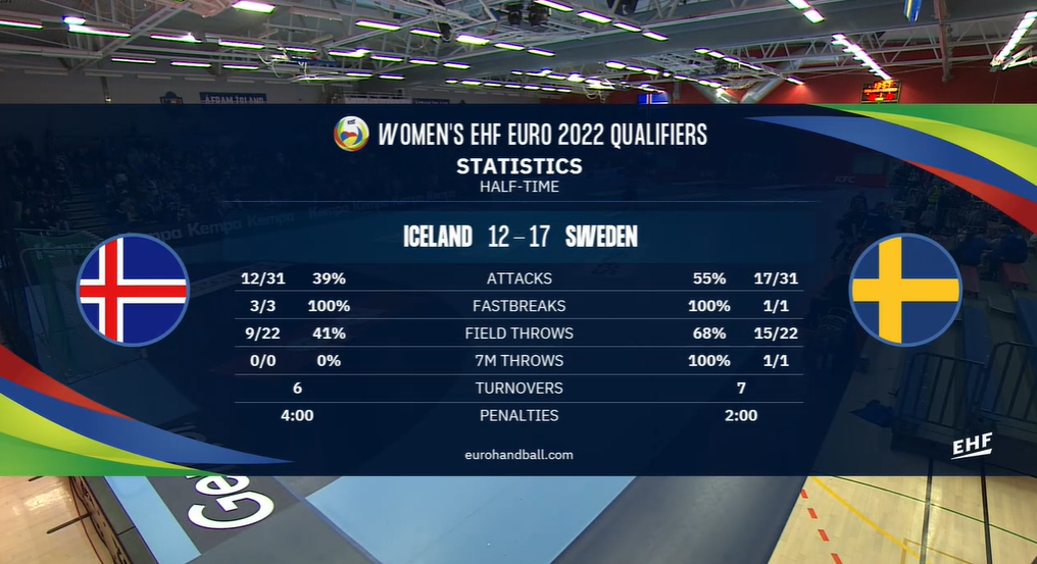 22:18
22:06
Iceland are at home in front of a packed arena, and the crowd are pumped for tonight's match!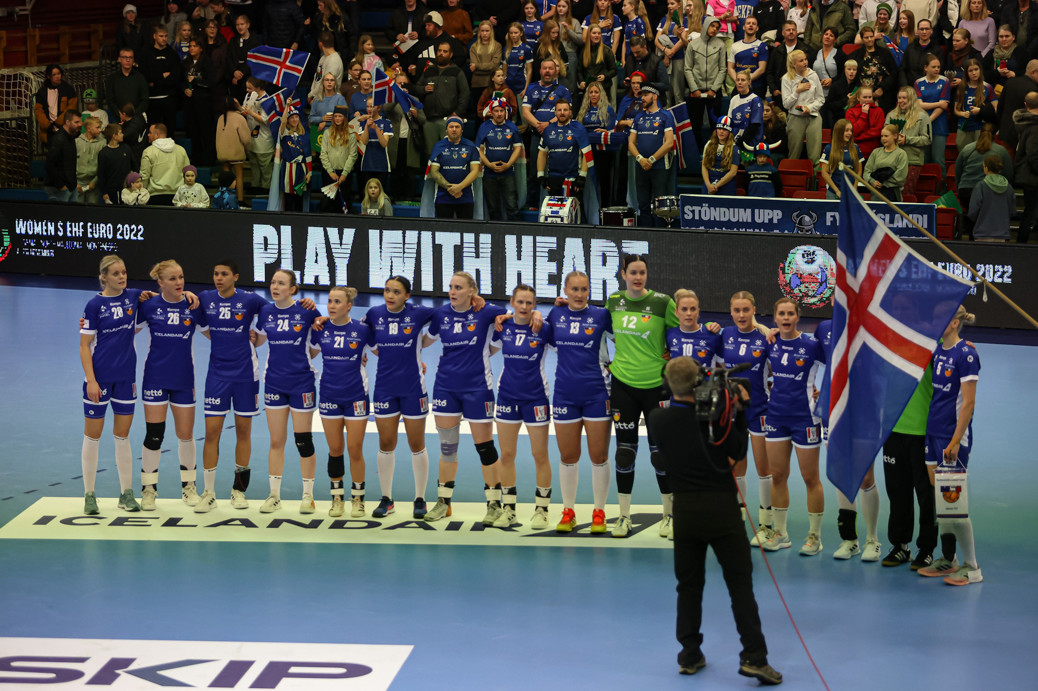 21:51
This is why we love handball...
21:44
Our final stop on tonight's journey sees us make a stop in the land of fire and ice: Iceland. Iceland host Sweden in this group 6 clash and a Swedish win would mean that they make it to the EHF EURO 2022. 

Watch it HERE!
21:39
RESULT: Slovakia 20:29 Spain
Another big result is Spain's win over Slovakia which means they taken a huge step towards EHF EURO 2022, congrats to 'Las Guerreras' on the win! And their unbeaten record against Slovakia that dates back to 2015 remains intact. 

Good news for Spain is if Hungary win tomorrow they will have booked their spot for the final tournament!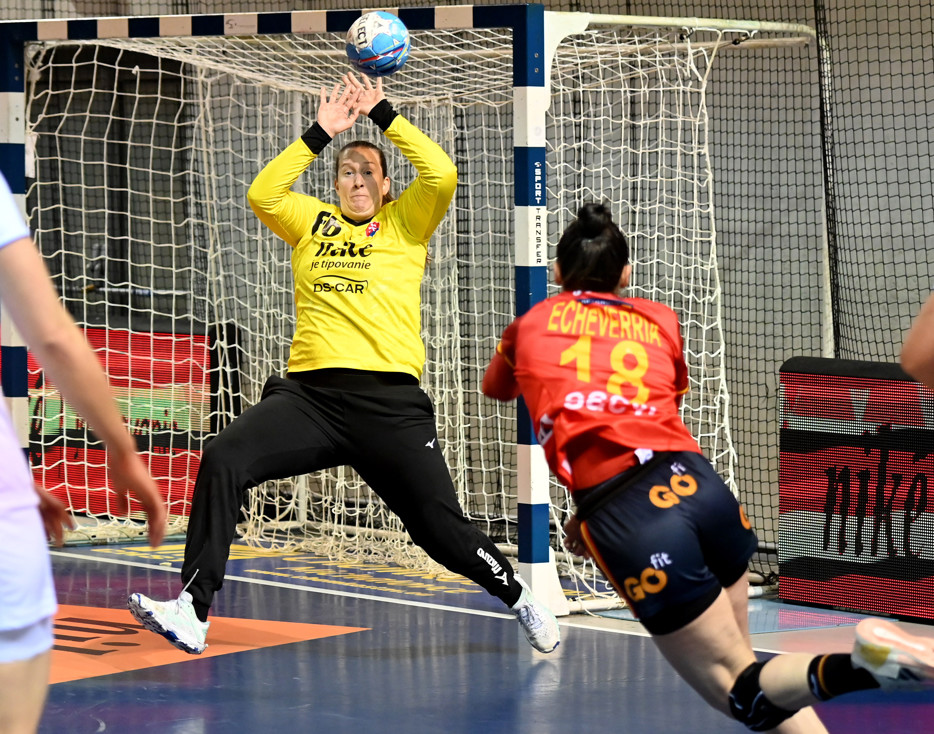 Absolute scenes here in the Czech Republic! The hosts have pulled off the most unlikely of wins and have ended France's EHF EURO qualifiers streak that dates back to 2012. And with the win, they have given themselves a glimmer of hope in group 4. With a game against Croatia and two against the Ukraine coming up, it is now all the play for.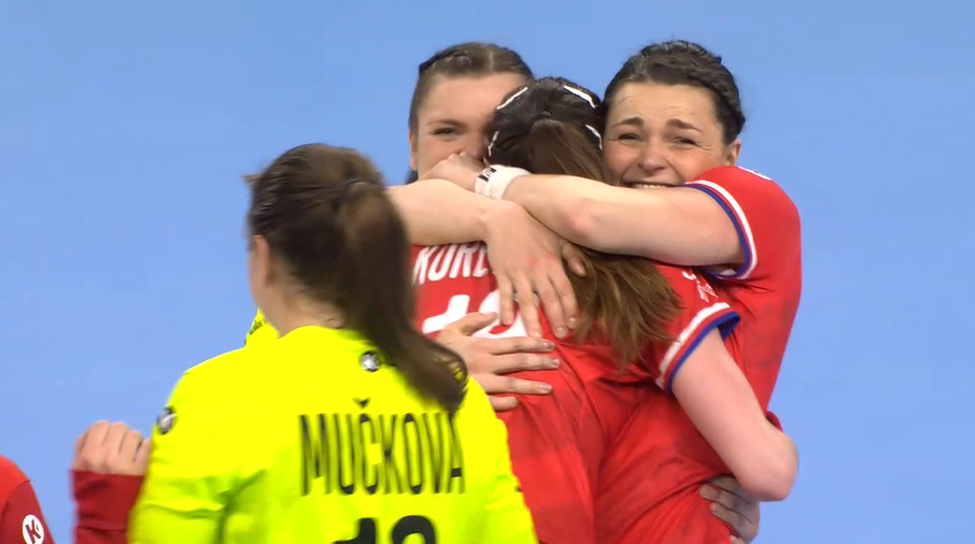 21:16
Should the Czech Republic win they would end France's 19-game unbeaten streak in qualification for the EHF EURO. Their last loss came in March 2012, against North Macedonia.
21:10
Muckova with a huge save from the spot for the Czech Republic. Horacek runs back with her head held low as the Czech keeper fist pumps the air. CZE 26:23 FRA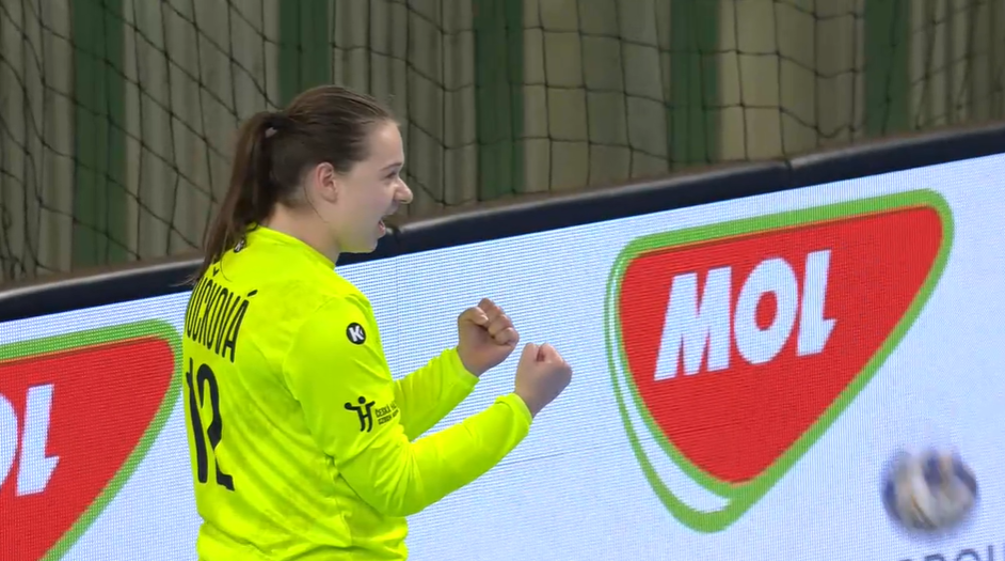 21:05
"Top corner please" 

Horacek: 


20:59
The Czech Republic have picked up where they left off and are holding onto their lead. Knedlikova is showing her experenice here from the EHF Champions League and is really leading the side. Her five goals have been key. Vipers' left back Jerábková is also in good form with her five goals.
20:40
HALF-TIME: 
Czech Republic 16:13 France 
Faroe Islands 11:13 Romania 
Slovakia 8:13 Spain 

Despite France being already qualified that is a huge 30 minutes behind the Czech Republic. Kudlackova in the Czech goal has been key with her seven saves so far.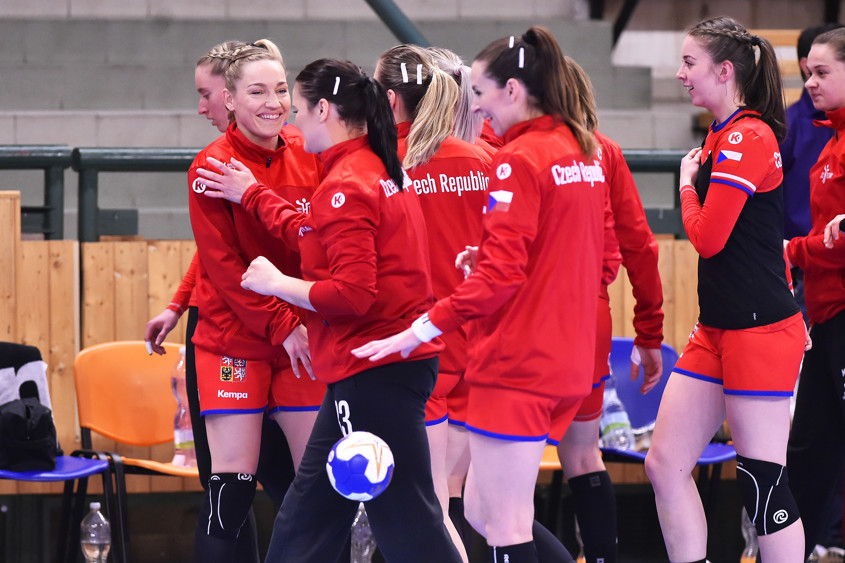 20:39
Take note kids: this is how you surprise a defence with your backcourt shooting; one step and BOOM. Gives the defence no time to think. But she does make it look easy... 


20:38
Just look at these saves, amazing... 


20:25
Spain are wanting to leave no doubt about their right to the a place at the final tournament. They have put their foot down and now lead by 7 with only 21 minutes gone. In classic Spanish style is it a tough defence and an excellent fast break game that is working a treat so far. 
20:20
A fast-break goal by López sees Spain go into double digits. Qualification for EHF EURO 2022 is looking on track. Slovakia 4:8 Spain 
20:12
Early rumblings from the 20:00 games: 

Slovakia with a one-goal lead over Spain (4:3); likewise, the Czech Republic have a two-goal lead over France (6:4) and Romania are on track to pick up a win starting strong against the Faroe Islands 5:2. 
20:08
Important points to note: France are already through; Romania need a win tonight and again on Sunday. If Spain beat Slovakia they will progress. And Denmark are on their 12-game-unbeaten run when they face Austria.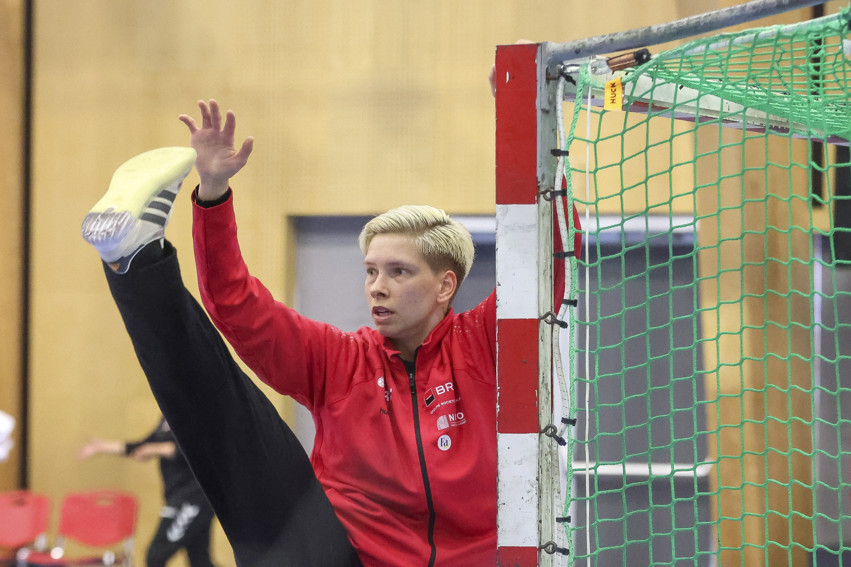 20:00
We have three matches coming up now: 

Czech Republic vs France in group 4; Slovakia vs Spain in group 5 and Faroe Islands vs Romania in group 2 all at 20:00 (CEST) while Austria vs Denmark will happen at 20:25 (CEST). 

Join us now on EHFTV!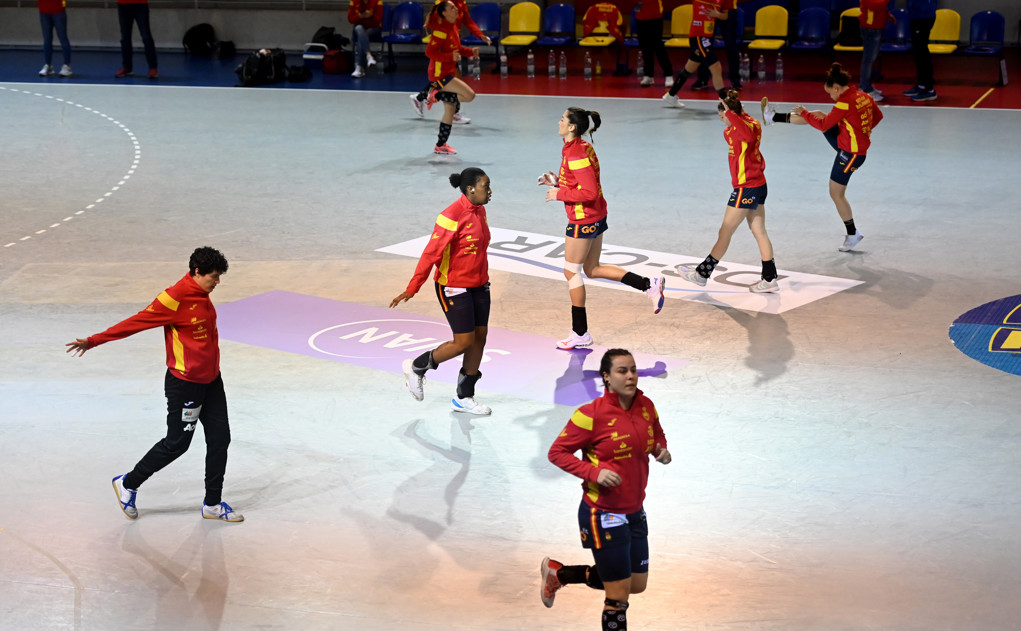 19:39
Poland extend their 10-game winning streak to 11 in EHF EURO qualification, their best-ever in the competition. If Poland beat Switzerland, they could finish the qualification phase of the EHF EURO with six wins in six games for the first time ever. 
19:26
The end score line does not reflect how tense and tight this game really was. But it was a must-win for Croatia and they take full points with them and move to second in the group on four points. France who are top of the group with eight points have already qualified but can help Croatia's cause with a win over the Czech Republic at 20:0 (CEST). The Ukraine still have three games left to play so a lot of point to pick up still.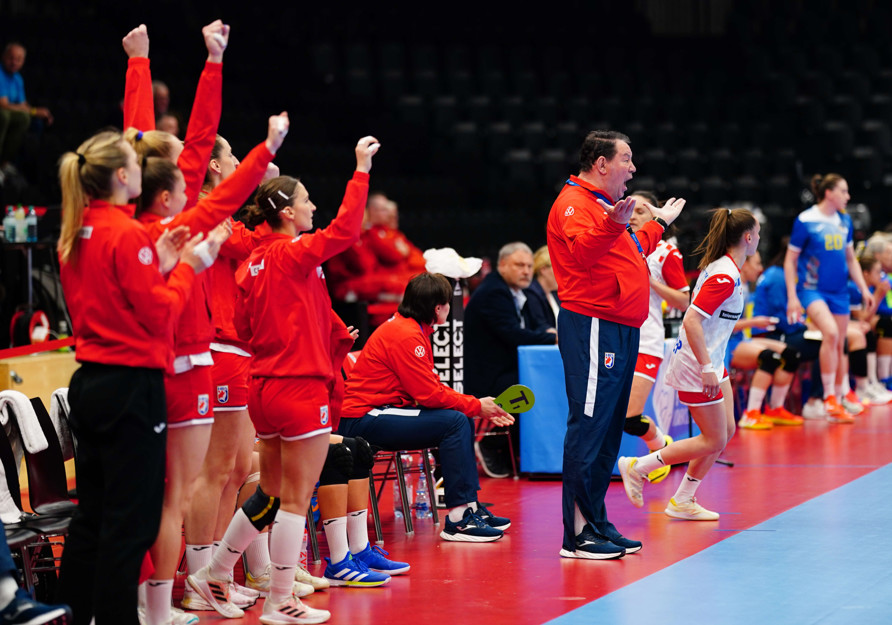 19:20
A wonderful bit of one vs one skill from Ukraine's Shupyk sees them pull it back to within four but it is starting to look like mission impossible with time running out. Croatia are taking full advantage of Ukraine stretching their play with some fast break and open net goals.
19:11
Kapitanvoic keeping 101...
19:02
Well, a mix of some good saves from both sets of keepers (Gladun (8 / 30%) & Kapitanovic (8 / 38%) and some poor shooting as been the main story of this second half. Croatia have missed six shots and Ukraine 8. Both sides need to improve this asap. Ukraine 14:18 Croatia.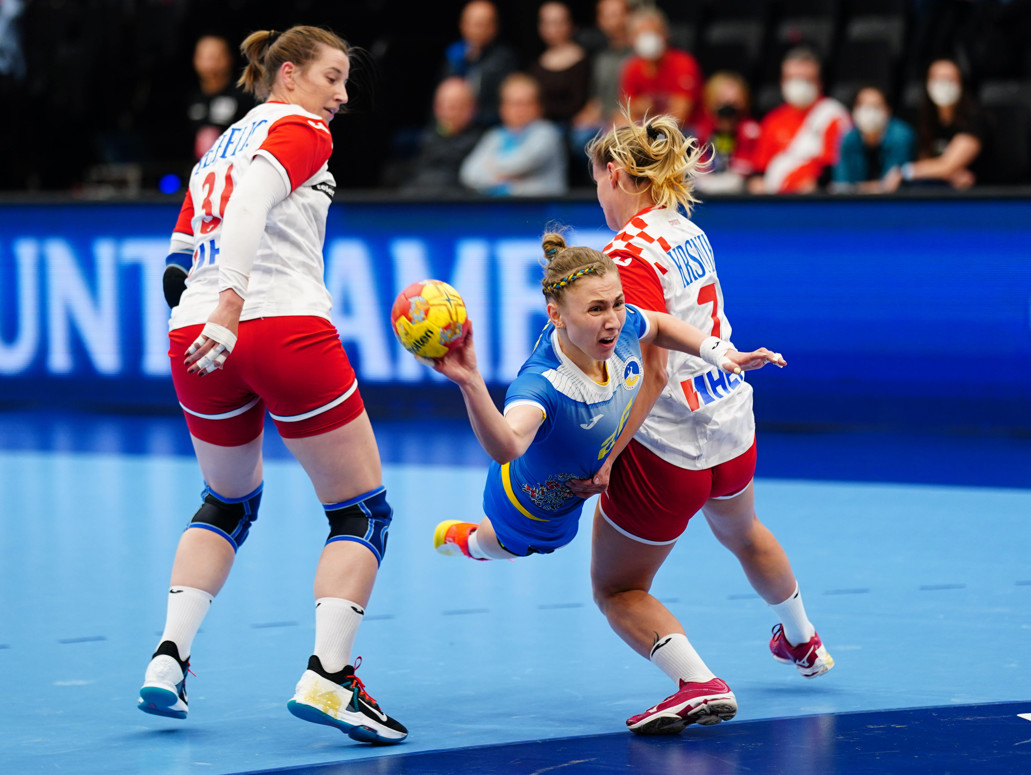 18:41
A weighted pass, timed to perfection!
18:36
We have a super tight encounter in Graz, Austria between the Ukraine & Croatia. Ana Turk has been sharpest for Croatia with her four goals from seven attempts while it is Iryna Gibko who is Ukraine's top scorer with four from eight. This game is a must-win for Croatia while Ukraine need three points from the remaining games to progress.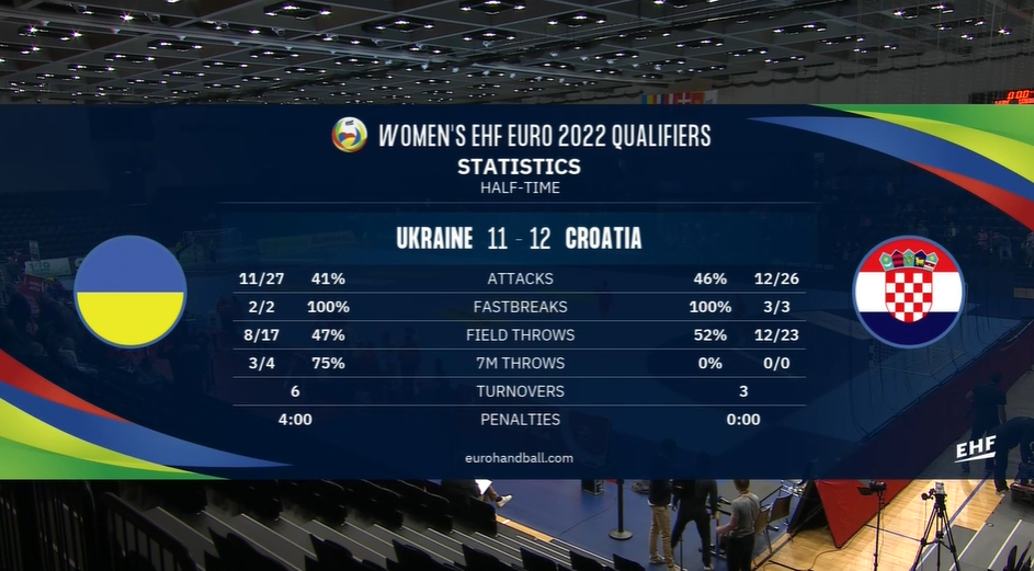 18:31
Just look at that whip! 
18:05
RESULT: Turkey 30:36 Serbia 
A much better performance by Turkey than in the reverse fixture but they were outsmarted when it counted. This team is taking very big steps forward and it is exciting to see what the future will bring but it was Serbia's day. And one woman's name needs to be rung loud and clear: Sanja Radosavljevic. Her 11 goals were the backbone of today's win and it was a huge day for her. Coach Uros Bregar won't be happy about how they let Turkey back into the game when it stood 27:21 in their favour. But it's an important win for them. Serbia move level on points with Sweden (6 points) before Iceland host Sweden at 21:45 CEST.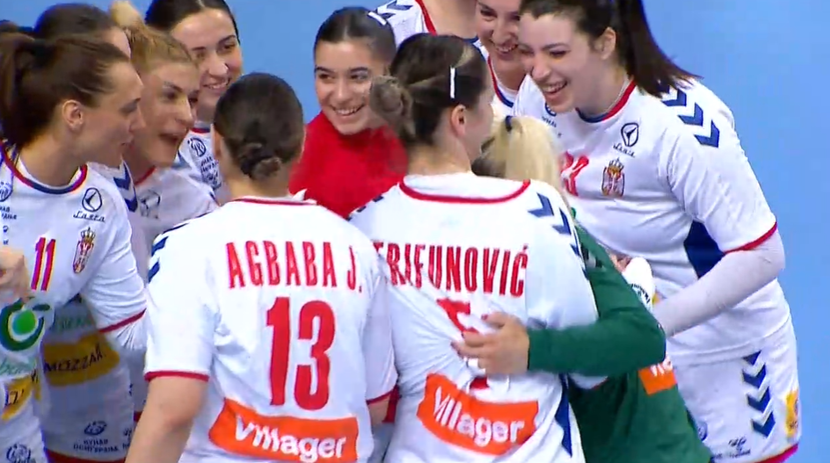 18:00
Just before this comes to a close, we are off the mark again with two more games at 18:00 CEST from group 1 & 4!
17:54
Turkey have muscled their way back into this game. Really incredible stuff. But they just had the chance to pull it back to three goals and their keeper Goker launched a fastbreak pass to nobody and handed the ball back to Serbia. After all that hard work such mistakes cannot happen... 
17:45
17:35
Not a good start by the hosts Turkey. The energy levels from the first half seemed to have dipped and the suddenly don't look as comfortable in attack. The Serbian defence is slowing starting to bully their attack and they have netted 8 to Turkey's 3 so far here. A two-minute suspension for Akgun Goktepe will add further woes to their endeavor. Turkey 19:26 Serbia
17:10
HALF-TIME: Turkey 16:17 Serbia 
What a performance by Turkey so far, they have really stuck it to Serbia and looked really good in parts of the half. It was Serbia's cleverness in certain moments that gives them the half-time advantage of +1, but it is still all to play for. It is pure teamplay from Turkey with 10 players making it onto the scoresheet. Caliskan's last goal coming from the left back position really got the crowd going and was an important boost for the hosts. Can they keep it up for the second half? Turkey have never won more than one game in qualifiers; can they change that today?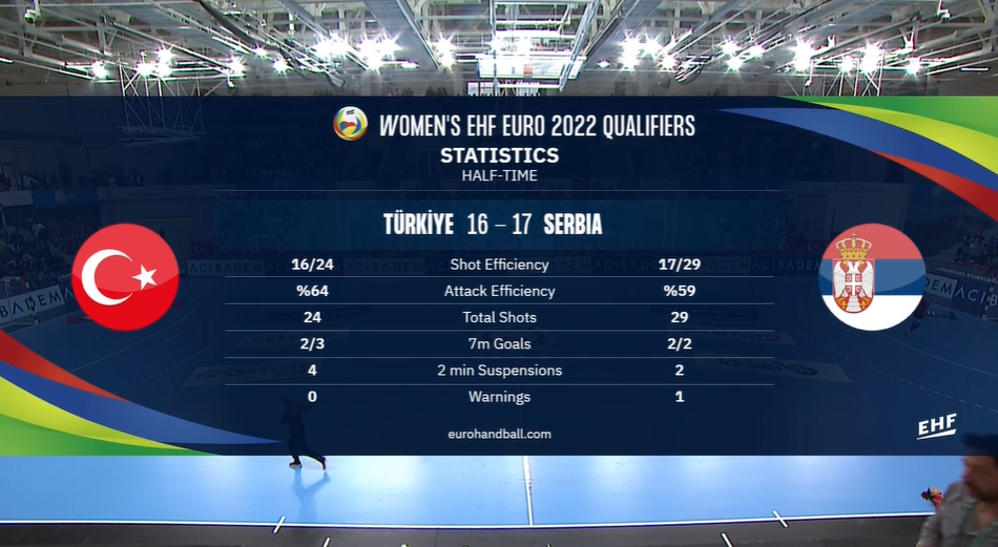 17:01
A save by Durdu in the Turkey goal and a lightening fastbreak by Caliskan and the hosts up by two for the first time in the game! Are Serbia already feeling the pressure? Turkey 14:12 Serbia.
16:50
16:42
10 minutes have gone by and we have a game on our hands! Turkey have a loud and motivated crowd behind them this afternoon and they are putting up a good resistance to Serbia. It stands 6:6. For Serbia, scoring is all coming from one side of the court: the left. Krim winger Radosavljevic has netted four of the six so far and is looking good. 
16:25
We are about to kick things off over on EHFTV for our 16:30 match between Turkey & Serbia! Join us to watch it by clicking HERE! 

Remember: Turkey are in with a chance to qualify for the first time, but must win this game against Serbia
15:50
They might not be expected to qualify for this EHF EURO, but make no mistake - the Faroe Islands are on the up in handball, both men's and women's. EHF journalist Chris O'Reilly spoke to Jana Mittún, who made her debut for the national team last year aged only 17. We find out how the Faroese are feeling ahead of their home game against Romania tonight, and why handball in the Faroes is a family affair.
15:30 
The race for the Women's EHF EURO 2022 is hotting up. Nine teams - hosts Slovenia, Montenegro and North Macedonia, reigning champions Norway, plus France, Denmark, Poland, Switzerland and the Netherlands - have already secured their places.
On Wednesday, there are good chances for Sweden and Spain to book their spots. Wins for Germany and Turkey would put them in strong positions too. Ukraine and Croatia meet in Graz and the EHF EURO 2020 bronze medallists know they have to win after three previous losses in the qualification round. 
Check out the round preview for the vital information on all of the matches today and tomorrow!