EHF EURO
Summary: Germany, Iceland and Poland victorious on day 2
It's day 2 of the Men's EHF EURO 2022. Stay up to date throughout the day with our live blog coverage, with three matches on Friday.


















23:10
Here's a reminder of tonight's three results. We will be back tomorrow at 10:00 CET to bring you the build-up to the first second-round matches, from groups A, C, E and F.

22:49
Tonight's three matches conclude preliminary round 1 - read the match reviews to recap how Germany, Icelan and Poland took their first EHF EURO 2022 points. 
22:20 | FULL-TIME
AUSTRIA 31:36 POLAND
Despite Syzmon Sicko earning a disqualification for a foul on Nikola Bilyk, Poland take a five-goal victory against Austria. It's a strong performance for a side that has lost several players to positive Covid tests in recent days. Arkadiusz Moryto's nine goals earn him the Grundfos Player of the Match award.
22:00 | FULL-TIME
PORTUGAL 24:28 ICELAND
Iceland just absorbed everything Portugal threw at them tonight, and despite some creative play from the Portuguese, they stayed strong right to the buzzer and took a deserved win. Sigvaldi Bjørn Gudjonsson, with five goals, is the Grundfos Player of the Match.
21:56
Arkadiusz Moryto is on absolute fire - he's scored eight goals for Poland, and they hold a five-goal lead over Austria, despite Sebastian Frimmel and Fabian Posch both netting seven times. This is an encounter built on attacks, with neither side's defence doing much to stop the other team.

21:45
Iceland have plenty of young players, and they're making an impact - such as Einar Jónsson here. He's just 24.

21:35
Ten minutes into the second half, and Iceland have extended their lead to 20:15. Portugal are still failing to find answers, and a famous comeback by the 'Heroes of the Sea' doesn't seem to be on the cards right now.
21:25
Aron Palmarsson scored three times in the first half - here's his best. He's just netted again to put Iceland up 16:11.

21:17 | HALF-TIME
AUSTRIA 14:17 POLAND
Szymon Sicko is leading the scoring with five goals at the break, as Poland throw off a few pre-tournament Covid issues and take a three-goal lead against Austria. 

21:10 | HALF-TIME
PORTUGAL 10:14 ICELAND
Portugal are finding this tough - EHF journalist Courtney Gahan assesses their performance.
Most expected a tight contest between Portugal and Iceland and that is exactly what we are seeing. Iceland have caused Portugal frustration with an effective 6-0 defence, while Portugal goalkeeper Gustavo Capdeville has made some great saves to keep the Nordic side from taking a clearer lead than the four-goal distance they hold. Iceland missed the chance to take a bigger advantage into the break due to Capdeville and also two failures to capitalise on an empty goal during a two-minute suspension for Portugal, but seem to have the momentum here.
20:55
There's a lot of power behind this Rui Silva shot - but at the moment, Iceland are outsmarting Portugal and lead 9:7 after just over 20 minutes.

20:50
Austria's good start has been negated by Poland, who have moved ahead 10:8 about halfway through the first half. They're shooting well though, with the likes of Gerald Zeiner and Sebastian Frimmel on form.

20:40
There were questions before the tournament about Aron Palmarsson's fitness, but he seems to be laying those to rest, having scored both Iceland's goals in the first eight minutes. That's good news for the men in blue, who are being cheered on by a sizeable group of fans with drums.
20:36
In our match of the day it has been a very slow start, with Antonio Areia the only player to find the net so far with over five minutes played.
In Bratislava, it's 3:3 - Fabian Posch scoring the first two for Austria.
20:31
Throw-off! Which two teams will take the last round 1 points?
20:15
Coverage on EHFTV is beginning for both of these second matches - remember there's a dual-screen function if you want to watch both. Check out the how-to-watch guide for details of which broadcaster is showing the tournament in your country if EHFTV is geo-blocked.
Also, we have behind-the-scenes coverage and exclusive clips from Budapest on our Instagram story!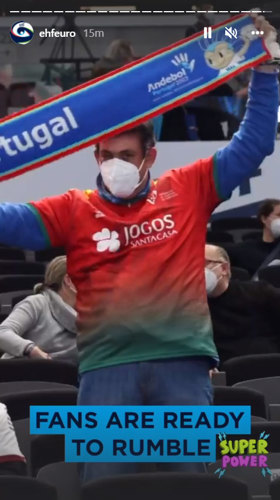 20:00
Portugal and Iceland are warming up here in Budapest for their group B match. Portugal's coach Paulo Pereira talked on his arrival about his team's problems with Covid-19 ahead of their preparation - but it's always hard to write Portugal off. If nothing else, they seem to thrive on adversity. They throw off in 30 minutes.
19:36 | FULL-TIME
GERMANY 33:29 BELARUS
Germany wrap up a good win. They started badly, but once they found a bit of rhythm and the ability to withstand the Belarus defence, they were able to stay ahead.

19:32
Germany have steamed ahead now, despite some solid saves from Belarus, and led by five goals. However there's a late blow as Patrick Wiencek receives his third suspension of the match, and trudges off to the stands to be congratulated by spectators - followed by another save from Andreas Wolff, stopping the Mikita Vailupau penalty. Belarus are running out of time.

19:22
Just under 10 minutes to go and Viachaslau Bokhan receives a red card after fouling Philipp Weber. Germany lead by three - it ought to be enough ...
19:06
It's a good return to the court for Germany, and they now lead by three goals 10 minutes into the half. They look a lot more confident than before the break and are capitalising on an increasing number of errors by Belarus. 
18:55
Top scorers so far are Mikita Vailupau with six goals, and Kai Häfner with five. Timo Kastening, who was Germany's joint top scorer at EHF EURO 2020, is yet to find the net.
The second half has just begun.
18:45 | HALF-TIME
GERMANY 17:18 BELARUS
Here's EHF journalist Björn Pazen with his assessment of the first half of what is turning into a great match.
"Give youth a chance" is the German motto for the EHF EURO 2022, and perhaps that is why coach Alfred Gislason gave 23-year-old goalkeeper Till Klimpke the starting spot. But after 11 minutes Gislason had to revise his decision, as Belarus were ahead 7:2 and Klimpke was on zero saves. What a difference a Wolff made! He saved the first shot and backed his team with confidence only with his presence – though his Kielce teammates Kulesh and Karalek still found some gaps.
18:33
The teams are trading blows now in a physical encounter. Germany briefly held the lead at 11:10, but it's a level game.
18:25
Uladizislau Kulesh picks up a two-minute suspension after an aggressive foul on Christoph Steinert which goes to video replay. Germany are playing much better now and close right up to 9:10, so Iouri Chevtsov calls his first timeout.

18:15
Kai Häfner scores his second goal and Germany's third, ending a four-minute period with no goals for Germany. Belarus are using their superior height effectively in defence, blocking many of Germany's shots, although they have incurred two suspensions for fouls in the process.
Andreas Wolff has now replaced the young Till Klimpke in goal, after the debutant let seven shots through. Wolff has already saved once.
18:09
Mikita Vailupau scores his first goal of the tournament - the first of many? In 2020, the wing was the second-best scorer of the entire championships, netting 47 goals in seven matches. Belarus now lead 5:2 after a slow period from Germany.
18:05
While Belarus were first on the scoreboard, courtesy of Uladzislau Kulesh, Philipp Weber and Kai Häfner have given Germany the early lead. 
Although Andreas Wolff is certainly Germany's first-choice keeper, Alfred Gislason has chosen to put Till Klimpke between the posts in these early stages. This is the 23-year-old Wetzlar player's EHF EURO debut.
18:00
The anthems have been sung, the players have shaken hands, and the match is about to start. Germany are playing in black and Belarus in blue tonight.
17:45
Andreas Wolff is a formidable goalkeeper. There's a good chance he'll join the other shot-stoppers who have already been named Players of the Match in yesterday's games.

17:30
Belarus could be dangerous tonight for Germany - they are a powerful squad with several talented players. Just half an hour until they throw off. 
Here's a clip of their pre-tournament photoshoot, in which they seemed to be relaxed and having fun; always the best way to approach the big stage!
17:05
Pictures from Poland's training session in Košice earlier today - they're due to play Austria at 20:30 CET.
16:20
Have you signed up for the EHF EURO newsletter yet? You ought to - every day it will bring you the latest news, results and interesting statistics.
For example, our resident stats guru, Julian Rux, one of the co-founders of Handballytics, tells us that in the France versus Croatia game both teams recorded 48 possessions of the ball. That's below average, especially for Olympic champions France. Julian tells us that this is part of the Croatians' strength. Two years ago, they already had the fewest possessions per game of the whole tournament (46.4) but still managed to reach the final.
16:00
Two hours before throw-off tonight - just Germany vs Belarus at 18:00, then Austria vs Poland and Portugal vs Iceland at 20:30 CET. The latter match is today's Match of the Day, with extra behind-the-scenes coverage on Instagram through the night.
14:40
We're having a break now before the matches, but that gives you time to go and enter your match predictions for tonight on the Home of Handball app. Lots of people played yesterday, but there's plenty of opportunity to catch up with 56 games still to take place - and some great prizes for the winners thanks to Gorenje!
14:25
A bit of post-match reaction from France and Slovenia. Clearly, nobody is underestimating anyone in this tournament - although on paper France should have a straightforward win against Ukraine.
Winning against Croatia and losing against Ukraine tomorrow would be like shooting ourselves in the foot. The game yesterday has to be our benchmark for the next ones. We have to respect Ukraine, a team composed of players who play for Motor Zaporozhye, which is a tough team to play against in the EHF Champions League. We have to take another step in this competition.
We need to perform excellent if we want to win against Denmark. We played well against North Macedonia but we need to step up for the next opponent. Our defence and fast breaks should be our weapon against one of the best teams in the world.
14:10
Lithuania didn't manage to beat Russia yesterday on their EHF EURO comeback, but they got pretty close - just two goals from a draw, and three from victory. It's been a long journey to Košice for Aidenas Malasinkas and his teammates, but now that they are here, they want to go away with a win. EHF journalist Adrian Costeiu has more ...
13:27
Germany have shared some photos of what looks like a fun stretching session, as they gear up to take on Belarus at 18:00 CET today in Bratislava.

12:43
A challenge for the Austrians: who can name the most EHF EURO hosts?
12:30
A blow for Croatia: David Mandic, who was handed a red card yesterday for a dangerous foul on Kentin Mahe in the match against France, has been suspended for one game. 
However the Netherlands' Rutger Ten Velde, who also received a red card against Hungary, has no further sanctions and is cleared to play against Iceland on Sunday.
12:10
At every match at the EHF EURO 2022, one player will be named Player of the Match. The award is made by Grundfos, and they will make a donation in the name of each player throughout the tournament in association with the Red Cross to help provide clean water and sanitation to families in Malawi. 
11:40
After last night's games and before tomorrow's matches, the players face the media again for a few questions - we'll bring you some of the best quotes as they come in.

11:00
Here's a morning treat - yesterday's top five goals. Drop us a line on social media to tell us which goal was your favourite of the night.
10:40
Austria's Nikola Bilyk has been excellent throughout his career, but he really made an impact at the EHF EURO 2020 in Vienna as his final buzzer beater secured his team their best-ever result at the tournament. With 46 goals he was by some margin Austria's highest scorer in 2020, and third overall behind Sander Sagosen (Norway) and Mikita Vailupau (Belarus). 
But he then tore his Achilles tendon in August 2020, and spent more than a year off the court rehabilitating. Thankfully for Austria, he is back in time for EHF EURO 2022 - and our journalist Björn Pazen has caught up with Bilyk to find out how he's feeling before they play Poland tonight.
10:00
After a marathon evening of incredible handball on Thursday night the pace slows a little today, with just three matches ahead.
In group B, Portugal face Iceland. They met in the main round at EHF EURO 2020, with Iceland winning 28:25. During qualification for EHF EURO 2022, they played twice, each winning the home game. So this should be a close match.
In group D, Germany play Belarus, and Austria Poland. Again, both matches promise to be tight in perhaps the most evenly matched group of the tournament.